If you ever get the chance to drive by the ever-colorful Ace Sebastopol Hardware Center, look up. You can't see the forty kilowatts of solar panels installed on the roof that power the entire place on sunny days, but you can see the small, community scale wind generator that has been installed. This is a good example of the kind of appropriate community scale wind power installation that local electricity suppliers like Sonoma Clean Power can incentivize. 
"We like to be green and show the community that there are options available for producing your own power," said Co-Owner and General Manager Mike Bishop.
The WindTronics generator is designed for home and small commercial use and measures just 6 feet in diameter and weighs only 241 pounds. It is rated to produce up to 1500 kilowatt-hours of electricity per year depending on the location and height of the installation. That's enough to power one small electricity-frugal household, so in most cases, this technology would be best to augment other power sources.
Mike Bishop agrees. "It's a great supplement to our solar power system because it produces power in the evening and cloudy days when the solar system is not producing," he said. 
"This is a good, low profile design that is quiet and bird-friendly so it's good for residential and rural use. We just wish the incentives were more stable and predictable."
On that point, when Sonoma Clean Power is established, it will take up the issue of offering attractive payment agreements for surplus clean power fed into the grid. A win/win prospect – good for the planet, and good for business.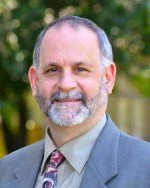 Woody Hastings
Phase Out Polluting Fuels Program Manager
Woody Hastings has served as The Climate Center's Energy Program Manager since 2010. He is an energy and environmental policy analyst, strategic planner, and community organizer with over thirty years of experience in the non-profit, governmental, and private sectors.
Read full bio