SACRAMENTO — SB 233, introduced by Senator Nancy Skinner (D-Berkeley) and sponsored by The Climate Center, aims to unlock the potential for California's millions of electric vehicles to shore up the electric grid and power homes during outages.
The bill will require most new electric vehicles (EVs) and electric vehicle supply equipment sold in California to have bidirectional charging capability by 2027. Bidirectional charging makes it possible to both charge the batteries of electric vehicles and send the energy stored in those batteries back to the power grid, homes, and businesses. Electric cars, trucks, and buses equipped with bidirectional charging capabilities can help balance spikes in electricity demand, avoid grid disruptions, and back up homes or even individual appliances during times of crisis.
"Climate extremes are pushing California's century-old power grid to the brink," said The Climate Center CEO Ellie Cohen. "Electric cars, trucks, and buses can act as 'batteries on wheels' to keep the lights on, reduce air pollution, and keep our communities safe. That's why we are proud to sponsor SB 233, introduced by Senator Skinner. Bidirectional electric vehicles are a critical component of a safe, reliable, and equitable power system for all."
The electrification of transportation creates a once-in-a-generation opportunity for electric vehicles to serve as grid assets rather than as an additional strain on the grid. Current technology allows a typical bidirectional electric car battery to power a home for up to three days.
California already leads the nation in electric vehicle adoption, accounting for nearly 40 percent of all U.S. electric vehicle sales. According to the California Energy Commission, the state expects to have 8 million electric vehicles on the road by 2030. But as of 2021, only a small fraction of California's electric vehicle fleet has bidirectional capability. By mandating that EVs sold are bidirectional by 2027, California can harness the momentum of a market moving swiftly toward an electrified future. 
"There are plenty of good reasons to rely on EVs for more than transportation," said Senator Nancy Skinner, author of SB 233. "SB 233 will ensure that new EVs are equipped with bidirectional charging so that EV batteries have the ability to power homes or other facilities when electricity demand is at its peak and prices are high. With bidirectional charging, EVs also have the potential to help power the grid. SB 233 will also help slash energy bills for EV owners and give California the opportunity to harness EVs as mini-power plants on wheels."
California's working-class and lower-income communities are hit hardest by air pollution, power outages, and climate disasters. These are the same communities where fossil-fueled power plants and generators are often located.
The bidirectional charging standards proposed by SB 233 can help California address multiple challenges at once, especially in frontline communities. Phasing out gas-powered cars will clean up the air. Deploying electric vehicles as backup assets will lower energy bills and allow families to power their homes during outages. And a more resilient energy system will lower demand for fossil fuel-powered generators, reducing climate pollution.
Early supporters of SB 233 include electric vehicle supply equipment manufacturers and environmental experts.
"SB 233 represents a historic opportunity to rapidly advance vehicle-to-grid (V2G) technology to help stabilize the California grid, which is facing unprecedented reliability challenges due to climate change," said Gregory Poilasne, CEO of Nuvve Holding Corporation. "Establishing vehicle-grid integration (VGI) goals, creating incentives, and developing standards for bidirectional vehicles and chargers is the right policy at the right time."
"It is very encouraging to see California extend its clean energy leadership with Senator Skinner's bill, which presents a much-anticipated regulatory framework for the use of EVs in energy discharge mode at home," said Dan Fletcher, Head of Ecosystems at dcbel. "A bidirectional charging model will bolster electrification, decarbonization, and energy savings efforts in the state. By participating in a transactive energy market, homeowners could leverage their vehicle as a Distributed Energy Resource (DER), offset energy costs, reduce their home's carbon footprint, and enjoy resilience in the event of a grid outage."
"This bill is a necessary step towards realizing electric vehicles' full potential," said Daniel Barad, Western States Policy Manager for the Union of Concerned Scientists. "As California ramps up to 100 percent zero-emission vehicle sales by 2035, we are going to see tremendous benefits in terms of improved public health and climate-changing emission reductions. But we cannot lose sight of the potential clean energy and grid reliability benefits these vehicles can provide if we ensure they are equipped with bidirectional technology."
ENDS
Notes: The full text of SB 233 is available here. References and supporting research are available here. Additional quotes from SB 233 supporters are here.
Contact: Ryan Schleeter, Communications Director, The Climate Center: ryan@theclimatecenter.org, (415) 342-2386
About The Climate Center:
The Climate Center is a climate and energy policy nonprofit working to rapidly reduce climate pollution at scale, starting in California. We are a think-tank, do-tank working to turn bold ideas into action for a climate-safe future. Our flagship Climate-Safe California campaign is a unique and comprehensive effort to make California the first state in the nation to reach carbon negative. www.theclimatecenter.org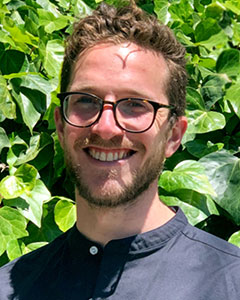 Ryan Schleeter
Communications Director
Ryan Schleeter (he/him/his) joined The Climate Center in 2021, bringing nearly a decade of experience in climate and environmental communications. As Communications Director, he leads The Climate Center's brand, message, content, and digital strategies, helping to grow the movement to secure a Climate-Safe California. 
Read full bio