SACRAMENTO — Today, SB 233 advanced out of the California Senate Appropriations Committee. Introduced by Senator Nancy Skinner and co-sponsored by The Climate Center, Nuvve, and the Union of Concerned Scientists, the bill will require most new electric vehicles (EVs) sold in California to have bidirectional charging capability by 2030 (amended from 2027). Bidirectional charging makes it possible for electric vehicles to become "batteries on wheels" — capable of using the energy stored in their batteries to back up the power grid, homes, and businesses.
In response, Nicole Rivera, Government Affairs Director for The Climate Center, said:
"Experts are predicting a dangerously hot, dry summer for California. As we prepare for more record temperatures, wouldn't it be great if we could use the batteries in our electric cars to keep the lights on during blackouts instead of polluting diesel generators? That's what SB 233 will allow Californians to do — use electric cars, trucks, and buses as batteries on wheels to back up our homes and businesses during climate emergencies. We're grateful to Senator Nancy Skinner for her leadership and look forward to SB 233 clearing the Senate floor next month."
ENDS
Contact: Ryan Schleeter, Communications Director, The Climate Center: ryan@theclimatecenter.org, (415) 342-2386
About The Climate Center:
The Climate Center is a climate and energy policy nonprofit working to rapidly reduce climate pollution at scale, starting in California. We are a think-tank, do-tank working to turn bold ideas into action for a climate-safe future. Our flagship Climate-Safe California campaign is a unique and comprehensive effort to make California the first state in the nation to reach carbon negative. www.theclimatecenter.org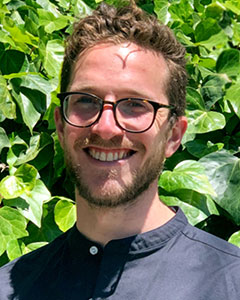 Ryan Schleeter
Communications Director
Ryan Schleeter (he/him/his) joined The Climate Center in 2021, bringing nearly a decade of experience in climate and environmental communications. As Communications Director, he leads The Climate Center's brand, message, content, and digital strategies, helping to grow the movement to secure a Climate-Safe California. 
Read full bio