The City of Stockton is one step closer to establishing a Community Choice Energy agency (CCA), which would give local residents and businesses an alternative choice in their electricity provider.
A Request for Proposal (RFP) for a CCA feasibility study was posted on the City's website in May.
That study will evaluate whether local control of electricity procurement would allow lower electric rates for the community, accelerate the transition to sustainable power sources, and create local jobs in sustainable energy development.
The City is also seeking to explore potential for a Joint Powers Agreement with other local jurisdictions.
The CCA could support local environmental plans, including the City's Climate Action Plan, through the purchase and development of renewable energy, the RFP notes.
We're very excited to see that some of the goals listed in the RFP include offering cost-competitive rates with Pacific Gas & Electric Co. (Stockton's current electricity provider), increasing the proportion of renewable energy in the City's power mix by at least 25% more than what PG&E offers, receiving revenues for programs to reinvest back into the community, and reducing Stockton's greenhouse gas emissions, among others.
The City estimates that it could be issuing a notice to proceed by early August, meaning the study could be complete by October.
It would then come before the City Council, who would be faced with a vote on whether to move forward with CCA.
Residents can hear from local government and community leaders about the opportunities and challenges for CCA in Stockton in our upcoming webinar on July 14 at 11 a.m., co-hosted by Rise Stockton and The Climate Center. Click HERE to register.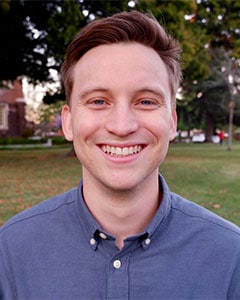 Davis has a background in journalism, with experience on the environment and local government beats. In his work with Rise Stockton – a coalition of nonprofits and the City of Stockton – Davis served as the technical writer for the Sustainable Neighborhood Plan, a framework for shifting to sustainable development practices in Stockton, with an emphasis on planning in historically lower-income communities. Davis has a B.A. in Environmental Studies from the University of California, Santa Cruz.
Read full bio