With a view of the future?
This past weekend I had the opportunity to visit the ranch of Steve Heckeroth, architect, legendary clean energy pioneer, inventor, former contributing editor for Mother Earth News, and in this instance, creator of the Solectrac electric drive tractor. Steve's ranch, and e-tractor manufacturing operation, is located along the Mendocino Coast near Albion, California, about two hours northwest of where I live.
My interest in electric tractors is partly personal. After moving to a rural area in Sonoma County in 2009 and finding that perfect place at the end of the lane away from the road noise, we woke up the first few mornings to realize we had not thought about tractor noise. Duh. Being surrounded by small farms, what did we expect? But perhaps with electric tractors now becoming reality, there may be hope for quieter mornings – and assuming they are plugging in to cleaner power, less-polluting farms.
So the first thing I noticed about the e-tractor is how quiet it is. Barely even a buzz or hum. The other thing I noticed immediately was how clean and simple it looked. No black oil, grease, or soot stains as one typically sees on diesel tractors.
One of the interesting things Steve demonstrated was the fact that you can set the tractor to move at a constant, very slow speed, which allows for an excellent seed spreading process. This is something that is difficult for diesels to do. He also explained how electric tractors have an enormous amount of torque, enabling them to tow or push many times their own weight.
There are two main models to choose from, the eUtility and the eFarmer. According to the Solectrac website, the eUtility tractor is designed for vineyards, equestrian centers, livestock operations, hobby farms, etc. It has a 20 kWh onboard battery pack that provides three to eight hours of run time depending on loads. It uses level two (240v) charging and takes about three hours to reach 80% charge, so having two battery packs and switching them out is the way to keep working all day. It accommodates a wide variety of implements on the rear hitch and uses linear electric actuators that replace inefficient hydraulic implements.
The eFarmer is designed for row crop farms and operates at a fraction of the lifetime cost of diesel tractors. Both tractors are zero-emission and quiet with no diesel fuel, hydraulic fluid, engine noise, or exhaust fumes.
Now, yes, clearly these tractors are designed for smaller operations, but the principle is demonstrated successfully and scaling up is a matter of investment. No technological breakthroughs are required.
Another key part of my interest revolves around our work in Community Choice Energy and in the Central Valley. E-tractors will not address the air quality issues of dust kicked up by agricultural activities, but the particulate matter and other toxic air contaminants that result from diesel combustion by farm equipment, an extremely harmful part of the poor air quality in the Central Valley, is indeed something that may be mitigated by this kind of technology. We look forward to helping advance electric farm equipment as we do passenger EVs.
And how might Community Choice agencies (CCAs) play a role? CCAs have successfully demonstrated that they can design a buy-down program for passenger electric vehicles. For CCAs with significant agricultural activity in their service territories, why not do the same for electric farm equipment?
Several other manufacturers including John Deere and Fendt have recently introduced electric tractors, but given that they have a huge market base of long-time diesel customers, it is not clear that they will do much to support their successful adoption.
For more information about the Solectrac electric tractors manufactured right here in California, eager to sell, visit Solactrac.com.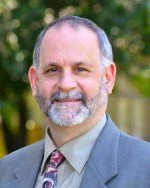 Woody Hastings
Phase Out Polluting Fuels Program Manager
Woody Hastings has served as The Climate Center's Energy Program Manager since 2010. He is an energy and environmental policy analyst, strategic planner, and community organizer with over thirty years of experience in the non-profit, governmental, and private sectors.
Read full bio