On Tuesday, September 13, the Stockton City Council voted unanimously to join the East Bay Community Energy Community Choice Aggregation joint powers authority.
"I've been working on this goal since 2016 because I recognize that Community Choice Energy offers opportunities not only to increase consumer choice and strengthen the Stockton economy, but to also address the climate crisis by accelerating adoption of clean energy," said Councilmember Dan Wright, a long-time champion of Community Choice for Stockton. "I am excited as our city begins this next chapter of climate action."
Members of the Stockton community were there to encourage the city council on their vote. Alicia Valenzuela of Stockton Chai, a Healing Arts Collective, said that "we are not responding as strongly as we should to climate change" and that joining EBCE will offer a "choice for Stockton residents to choose to do more, to choose innovation."
"CCAs can provide an integral part of the transition away from the 100-year-old system to a localized one that brings more benefits to our community with local clean energy, energy efficiency, storage, automation, and more," said Jonathan Pruitt, a lifelong Stockton resident representing Catholic Charities. "It's all about power to the people."
Pruitt called on the council to appoint a Stockton representative to the EBCE Board who has a strong understanding of environmental justice and the needs of the community.
"This is an easy one, a no-brainer for Stockton," said Matt Holmes, environmental justice director for Little Manila Rising.
Immediately after the vote, Councilmember Dan Wright joined CCA supporters and others outside the council chambers to celebrate.
Beginning in 2016 when The Climate Center introduced Community Choice to Stockton, the city evaluated starting its own agency. After reviewing a feasibility study for that purpose, the city decided in 2021 to shift to joining an existing CCA to avoid start-up costs. On September 21, the EBCE Board of Directors will vote on whether or not to authorize adding Stockton to the 15-member joint powers authority.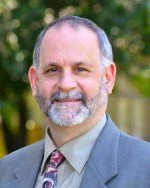 Woody Hastings
Phase Out Polluting Fuels Program Manager
Woody Hastings has served as The Climate Center's Energy Program Manager since 2010. He is an energy and environmental policy analyst, strategic planner, and community organizer with over thirty years of experience in the non-profit, governmental, and private sectors.
Read full bio