By Woody Hastings, CCP  |   Jan. 15, 2016 
All eyes are on San Francisco in
the California local clean energy community as the City moves closer to its
long-held vision of having its own Community Choice energy program,
CleanPowerSF.
San Francisco was one of the
first communities to embark on an evaluation of Community Choice energy,
beginning back in 2004. On Tuesday, January 12th, the long-awaited
fruition of the endeavor took a giant leap forward with the San Francisco
Public Utilities Commission (SFPUC) authorizing the first power contracts to
serve San Francisco businesses and residents. The very next day, Harlan Kelly –
General Manager of the SFPUC, the entity that will manage the new program –
signed the first contracts with multiple wholesale energy suppliers.
This development is of significant importance to California's growing Community Choice movement and greenhouse gas reduction because it is home to almost 840,000 people as well as PG&E's headquarters. That San Francisco is taking control of its energy destiny can give the other 80 or so California jurisdictions considering a Community Choice program a boost of confidence about doing the same.
The City's Local Agency Formation
Commission (LAFCO) has been instrumental in the development of CleanPowerSF. Jason Fried, Executive Officer of the LAFCO, stated
that "we are excited that the program is moving forward. We are doing our best
to ensure that as many people as possible sign up for the 'SuperGreen' 100% renewable
energy option. It's easy to do at cleanpowersf.org."
SuperGreen is among several new
choices San Franciscans will have with respect to their electricity service.
The SFPUC authorized that contracts could be signed if they offer competitive
rates and 35% to 50% renewable energy content is the default service power mix.
SFPUC Commissioner Francesca Vieto, a strong
proponent of CleanPowerSF, read from remarks she'd prepared for a launch that
never happened several years ago, but that still ring true today: "Today
is a historic moment for the [SF]PUC. CleanPowerSF is an unprecedented
opportunity to lead the country by example. We will be able to create a new generation
of workers and build our own green power supply. I'm proud."
Lane
Sharman, a long-time advocate for a Community Choice program in San Diego, responded
to the news with an enthusiastic email to local clean energy supporters around
the State: "AWESOME… MANY CONGRATULATIONS FROM SAN DIEGO!!! 
For
more information, visit CleanPowerSF,
and if you live in San Francisco, check out the SuperGreen option.
Woody Hastings is the Renewable Energy
Implementation Manager at The Climate Center. He can be reached
at woody@theclimatecenter.org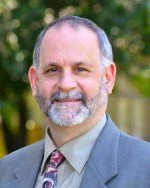 Woody Hastings
Phase Out Polluting Fuels Program Manager
Woody Hastings has served as The Climate Center's Energy Program Manager since 2010. He is an energy and environmental policy analyst, strategic planner, and community organizer with over thirty years of experience in the non-profit, governmental, and private sectors.
Read full bio