A new report by The Climate Center examines the over procurement of power by private utilities in the context of the growth of Community Choice Energy in California. The report is authored by energy policy analyst June Brashares and Tyler Bonson, a graduate of Sonoma State's Energy Management and Design and in Economics.
The rise of Community Choice
In the last three years, the rise of Community Choice Energy in California has been dramatic. The first Community Choice Agency (CCA), MCE Clean Energy, launched in 2010, and was the only one for four years until Sonoma Clean Power launched in 2014, followed soon after by Lancaster Choice Energy in 2015. By mid-2015 a critical mass of information-sharing and proof-of-concept had spread throughout California and by late 2016 nearly half the counties in the state and over 300 cities were either operational or at some stage of evaluation of Community Choice. The Climate Center keeps track of the growth with a dynamic interactive map, updated weekly, that includes Community Choice Energy status information about every city and county in the state at the Clean Power Exchange. The report takes it from there and projects the magnitude of the growth between now and 2020 in terms of megawatt-hours of load departing to Community Choice.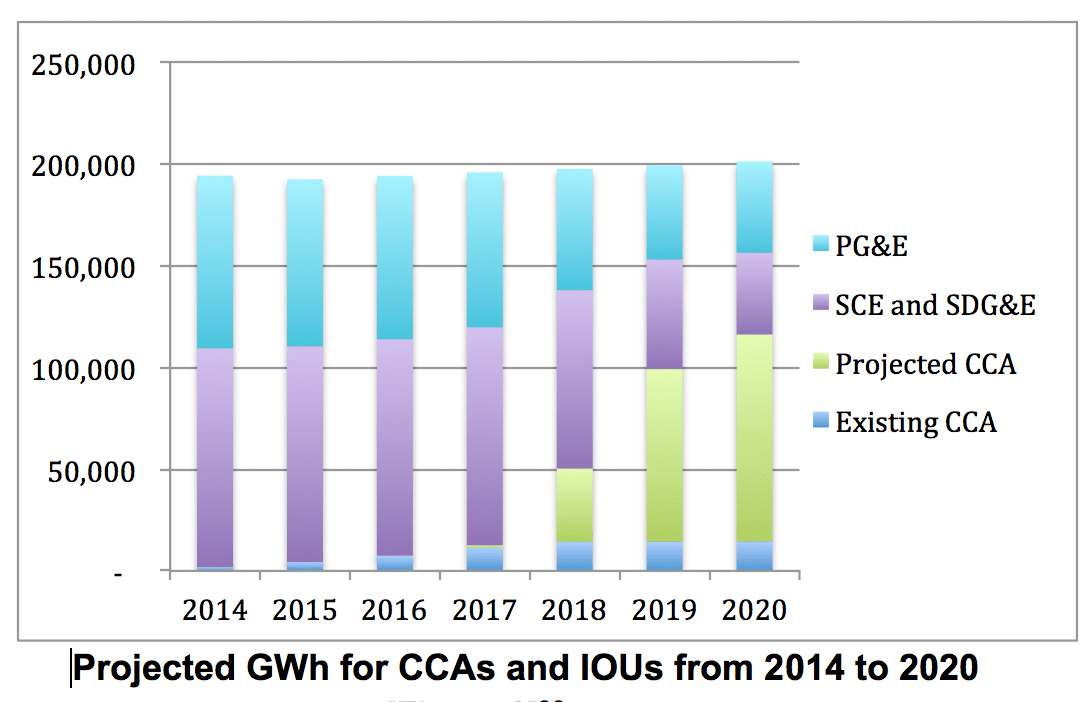 The exit fee challenge to Community Choice
In late 2015 a nearly 100% increase in a previously obscure fee on Community Choice Energy bills in PG&E service territory upset many customers and concerned advocates for Community Choice Energy. The fee, known as the Power Charge Indifference Adjustment, or "PCIA," is a fee meant to cover the costs of previous power purchases made on behalf of customers who have now exited their private utility and become Community Choice customers. It is often called an "exit fee." This spike in fees raised the question: at what point do the utilities cease to purchase power on behalf of customers in an area that is evaluating Community Choice Energy? It matters because all customers, big utility or Community Choice, must pay for this power. In fact, the issue of over-procurement of power by private utilities has gotten a lot of media attention recently, and this is one of the main questions explored in the paper.
Over-purchasing power
According to LA Times reporter Ivan Penn, who has covered the issue since February 2017: "California has a big — and growing — glut of power, an investigation by the Los Angeles Times has found. The state's power plants are on track to be able to produce at least 21% more electricity than it needs by 2020, based on official estimates. And that doesn't even count the soaring production of electricity by rooftop solar panels that has added to the surplus." (Californians are paying billions for power they don't need, LA Times, Ivan Penn and Ryan Menezes, Feb 5, 2017)
The new report has several key findings relating to both the exit fees and private utility procurement of power. They include:
The methodology by which the exit fee is currently calculated does not accurately or fairly accomplish its intent. The result has been volatile increases in exit fees that undercut Community Choice agencies. The exit fee's volatility, complexity, and lack of transparency put Community Choice customers at risk of unexpected, confusing, and potentially unfair cost increases.
Private utility load forecasts and the corresponding procurement decisions have underestimated the number of customers leaving private utilities for a Community Choice option, resulting in more over-procurement of power by private utilities.
The paper offers a series of recommendations including:
Initiating a transparent proceeding at the California Public Utility Commission dedicated to reforming the structure and nature of exit fees.
Adjusting load forecast procedures to ensure that power procurement plans fairly and correctly include Community Choice growth projections.
Allowing appropriate Community Choice agency staff to review confidential protected energy data subject to a Non-Disclosure Agreement, enabling Community Choice agencies to verify private utility calculations for exit fees.
Establishing incentives for private utilities to reduce quantity and associated costs of current and future procurement contracts to minimize avoidable costs to Community Choice customers as well as their own customers.
To download the entire report and appendices, click the following links: Community Choice Aggregation Expansion in California and its Relation to Investor Owned Utility Procurement with underpinning CCA/IOU Load Data Spreadsheet, prepared for The Climate Center by June Brashares and Tyler Bonson
If you would like to make a comment about exit fees to the California Public Utilities Commission, you can call, write, or email the CPUC Public Advisor at:
Telephone:  1-866-849-8390
E-mail:  public.advisor@cpuc.ca.gov
Postal Address:
Public Advisor's Office – CPUC
505 Van Ness Ave
San Francisco, CA 94102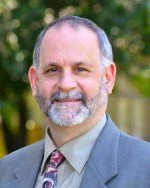 Woody Hastings
Phase Out Polluting Fuels Program Manager
Woody Hastings has served as The Climate Center's Energy Program Manager since 2010. He is an energy and environmental policy analyst, strategic planner, and community organizer with over thirty years of experience in the non-profit, governmental, and private sectors.
Read full bio