The concerns raised in Manteca Bulletin Editor Dennis Wyatt's piece about Pacific Gas & Electric's (PG&E) proposed rate hike (Time to end PG&E before PG&E ends Northern California life as we know it, August 5, 2021) are well founded. Wyatt points out that the increase – meant to cover the costs of burying 10,000 miles of distribution lines for wildfire resilience – is both cost-prohibitive and inequitable, given that wildfire risk varies significantly among communities in the utility giant's service area, yet all of PG&E's ratepayers would see their rates increase under the proposal. 
Instead of maintaining the status quo, we should be rapidly deploying clean energy sources with storage equitably, and giving communities more control over their energy, Wyatt says. He lays out some ways to achieve those benefits: for example, breaking PG&E up by forming public-owned power co-ops or adding electrical service to the repertoire of cities and irrigation districts. 
But one pivotal solution not mentioned in this article is the prospect of communities in PG&E service territory to form a Community Choice Aggregation (CCA) program. CCAs are state-enabled local programs that allow cities and counties to buy cleaner electricity at competitive rates on behalf of their residents and businesses. 
While it's true of the CCA model that PG&E would still be managing the poles and wires, the 23 Community Choice providers are also building reserves that are being reinvested into clean energy resilience projects, like solar with battery storage and microgrids, that can over time help reduce reliance on transmission infrastructure. These projects, along with innovative, locally tailored programs launched by CCAs, are helping customers save on their utility bills. 
It's time for Central Valley elected leaders to step up and explore the opportunities that come with establishing or joining a Community Choice program, whereby they'd be taking control of millions of dollars in existing revenues that leave their local economies that could be reinvested via lower rates, economic development, and clean energy resilience projects.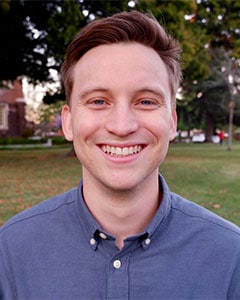 Davis has a background in journalism, with experience on the environment and local government beats. In his work with Rise Stockton – a coalition of nonprofits and the City of Stockton – Davis served as the technical writer for the Sustainable Neighborhood Plan, a framework for shifting to sustainable development practices in Stockton, with an emphasis on planning in historically lower-income communities. Davis has a B.A. in Environmental Studies from the University of California, Santa Cruz.
Read full bio