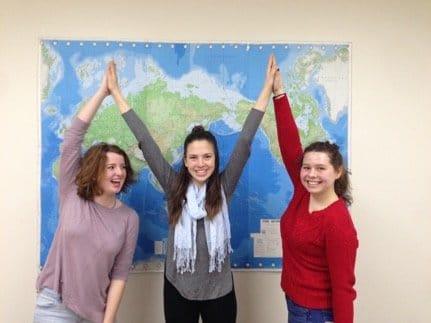 A few weeks ago I sat down with three of our Youth Advisory Board members: Geena Espinoza, Katie Morrison, and Cassy Moretto, sophomores at Santa Rosa High School. The three of them are very close, in fact, so close that we call them the Three Musketeers. Everywhere they go, they bring a gaggle of giggles and witty remarks. Although they have a light-hearted sprit, they care deeply for a very heavy topic: climate change. So, I decided to turn on the mic, open the floor to them, and see what came out. Here are some highlights of the inspiring messages they shared:
Q: What is your message about climate change to other teens?
Katie: "At first I was afraid of climate change. I didn't want to get involved because I was afraid I would be helpless and not be able to do anything about it."
Geena responded, "You have to channel that fear into action, you can't just be dormant. That action will resolve climate change and there won't be anything left to be afraid of anymore.  We can't be passive anymore.  The choices you make today are going to affect our world tomorrow. We can't just sit back and let things happen. We need to change what's happening."
Q: What is it that you are getting from your experience with The Climate Center's youth board, and how do you think it will impact your future?
Geena: "ECO2school has helped me extend my knowledge on climate change and it's helped me connect more with the subject. Through that, I can connect with my community and educate my peers, like bringing them to the Youth Advisory Board and our Climate Protection Club. It impacts my future because it's laying the foundation for my beliefs and it will affect my career choice and how I choose to live my life."
Cassy: "I am learning about the world. I didn't think that just one person or one group of people can make a change, but joining ECO2school has shown me that a change has to start somewhere. To light one million candles all you need is one candle, one fire burning. That one flame, sets off a million candles."
Q: When was your climate change moment? In other words, when did climate change become real and urgent to you?
Katie: "When I watched An Inconvenient Truth. It scared me. I was afraid to learn the facts. But I can get over my fears, by doing work to stop it [climate change]."
Cassy: "China! In China's current state, you can't go outside of your own house without wearing a mask. Even then, you still can't breath. They can't play soccer; they can't even enjoy the sun. That's their reality and that's horrifying."
Read full bio