During the holidays, the word "peace" is thrown around a lot. It's usually used to describe a state of being that may feel elusive in a world being swallowed by climate change. For me, peace directly relates to working for social justice. This became especially clear to me in a recent interview with Jim Grant, the Director of Social Justice Ministry for the Catholic Diocese of Fresno. 
Jim hosts a local YouTube and podcast show in the Central Valley where he invites guests to come and speak on various issues related to social justice. Jim's audience draws a wide spectrum of Central Valley viewership, not just Catholics. Jim asked me to come on his program after he saw me interviewed on ABC 30 with Graciela Moreno on the "Latino Life Show" in a 6-minute segment on Community Choice Energy.
Prior to our meeting, Jim had never heard of Community Choice Energy, and to him, it almost sounded too good to be true. Before and during his show, we discussed all the ways in which Community Choice Energy supports social justice– from putting control over the local energy system into the hands of the People to transitioning away from a fossil fuel-powered energy system that has poisoned the air and water and destabilized the climate. We discussed the potential for Community Choice Energy to help the region achieve rapid decarbonization while helping to build a vibrant green collar economy. And we discussed how such a transition will better the lives of people in our community, alleviating the suffering of low-income residents who are most affected by pollution. 
So long as we are complacent with an energy system that is a plague to our most vulnerable people, how will we ever find peace? I don't believe we can.  If we want real peace, we must imagine a new way forward that serves social justice, We will have to work hard building the political will to achieve it together.
Jim has a very inspirational quote from Blessed Paul VI that he uses in his daily life: "If you want peace, work for justice." 
I plan to do just that.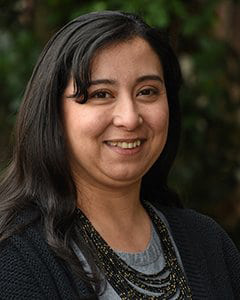 Destiny Rodriguez has worked on air quality, health, and environmental issues in the Central Valley for over a decade. Destiny has worked for the Central California Asthma Collaborative, Central Valley Air Quality Coalition, Coalition for Clean Air, National Parks Conservation Association, and the San Joaquin River Parkway and Conservation Trust. Destiny has a B.S. in Mass Communications Journalism with an emphasis on Public Relations, and Chicano Latin American Studies from California State University, Fresno.
Read full bio