It was a misty morning in Sebastopol as my fellow riders, Annabelle and Josh and Naia, a small fleet from Analy High School, came pouring out of the bike path. With smiles on their faces, and helmets securely fastened, we were set to tour around our lovely town, Sebastopol, before heading to school on Bike to Work Day.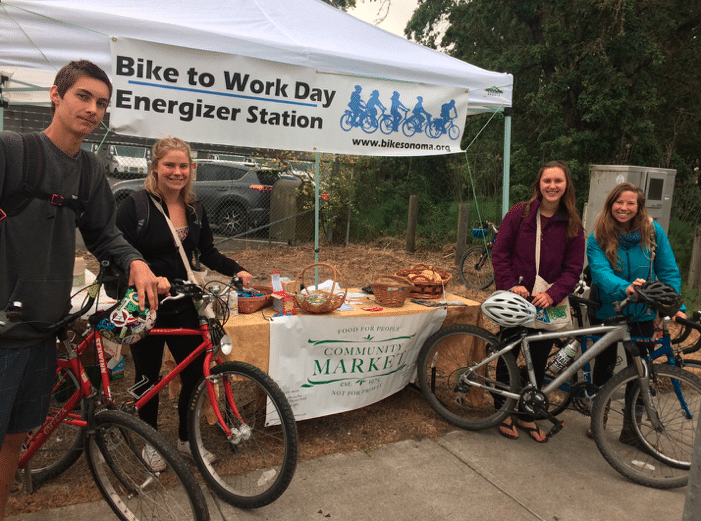 As if a morning on bikes with friends is not incentive enough, Community Market hosted an energizer station and graciously fed us vegan protein drinks, and bananas. Trek and other cycle shops volunteered $20 off coupons as well. As we refreshed ourselves, we talked about the importance of teens on bikes, clean air, healthy bodies, and youth mentorship.
As we rested and replenished ourselves, the conversation turned to why high school students aren't biking to school. Every person is different, however, there are some common challenges:
Their backpacks are too heavy.
Their skirts are too short.
They have a multitude of afterschool activities that require going other places.
Driving is still the norm.
Of these, normalizing walking and biking is the biggest challenge.
Our ECO2school Program has an answer. We incentivize and mentor student leaders to encourage their peers to take action. ECO2school has a guest speaker series – aligned with state education standards – that addresses climate science, bike safety, and sustainable transportation. Our student leaders walk (and bike) the talk, building awareness and excitement about what a group of people can do with their transportation choices. Our student leaders participate in events like the ECO2school Challenge and International Walk and Roll day, helping to influence their peers to engage in active transportation. They model the concept that small and seemingly insignificant actions become more impactful and fun when done as a group.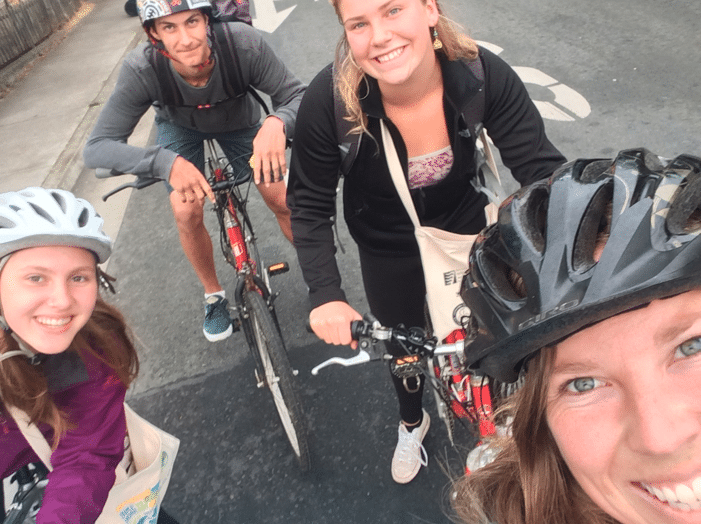 Safety education is another important aspect of our program. It's fun being a critical mass of bikers, and it's also a chance to get some hands-on teaching time with students about bicycling best practices. As we biked around Sebastopol on Bike to Work Day, we practiced merging into through-lanes, changing lanes, taking the lane, and hand signals for turns. We also took a victory lap around town headed for school. Upon arriving we celebrated by taking pictures in front of the school. One student started to laugh. "Look," she said. "There's my mom dropping off my sister. We live less than two blocks away!"
So, what are we enabling our young people to do? What behavior are we modeling? We, not just our children, need to be the change we want to see in the world.
So, what DOES enable young people to bike and be active?
Read full bio