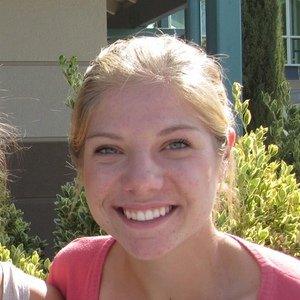 Jade Wilson is a junior at Windsor High School and one of the leaders helping put on the ECO2school challenge this April.  Jade is one busy student!  She is an AP student; a member of the Eco Club and the Interact Club; an integral member of WHS's Leadership class; and captain of the JV soccer team. When asked what she likes about community service, she answered, "It is the social interaction. I like being personal and intimate. I like talking to everyone."  She regards climate change as a huge issue. She joined the Eco Club during her freshman year and in her sophomore year she took an Introduction to Environmental Studies class. Being committed to turning ideals into action and tapping into her love of social interaction made taking leadership with ECO2school the logical next step.  She likes working with the ECO2school team because of how much we care. The encouragement and strategizing assistance we offer gives her the energy to keep going.
Jade walks to school almost every day.  Sure, she likes saving money on gas, but she simply enjoys the walk.  There is a path that leads almost directly from her home to school.  She walks along the creek and the trees make a tunnel over the water.  With the advent of spring, there is the added enjoyment of the flowers that are starting to bloom. Before she started walking, she didn't even know the path was there; now, she can't imagine starting her morning with out it.  She is always trying to get friends to walk with her.
Jade is going to be applying to colleges next year.  Her environmental interest is going to be one factor when she applies. She wants to look at schools that are walk and bike friendly and promote a car-free culture.  She really enjoyed the science behind water testing in her environmental studies class last year, and even though she is not sure about what career path she wants to pursue, she wants to continue to study science. She also likes talking and presenting and wants to find something that will utilize those skills.  She hopes to get to travel around the world and learn more about other cultures.  We don't know what great things Jade is going to do in the future, but we do know she is doing great things now!  Windsor's challenge is April 2-26.  Good luck to her and her team.
The Climate Center is a climate and energy policy nonprofit working to rapidly reduce climate pollution at scale, starting in California. We are a think-tank, do-tank working to turn bold ideas into action for an equitable, climate-safe future. Our flagship Climate-Safe California campaign is a unique and comprehensive effort to make California the first state in the nation to reach carbon negative.
Read full bio