SACRAMENTO — Last night, the 2023 California legislative session came to a close. Critical pieces of climate legislation now awaiting Governor Newsom's signature include:
SB 253 (Wiener), the Climate Corporate Data Accountability Act, which will require U.S.-based corporations doing business in California that make over $1 billion annually to publicly disclose their full carbon footprint.
SB 261 (Stern), the Climate-Related Financial Risk Act, which will require corporations, financial institutions, and insurers to report on climate-related financial risk.
AB 1167 (Carillo), the Orphan Well Bonding Requirements Act, which will make oil and gas companies pay the actual costs of producing fossil fuels rather than pass cleanup costs on to taxpayers.
"In a year defined by record-breaking climate disasters across the globe, all eyes have been on California," said Nicole Rivera, Government Affairs Director for The Climate Center. "State lawmakers stepped up this year to pass a suite of bills holding oil and gas corporations responsible for their role in the climate crisis and preventing them from burdening taxpayers with the bill for their pollution. We strongly encourage Governor Newsom to sign SB 253, SB 261, and AB 1167 without delay to send a message that California will always put people before polluters.
"Despite this progress, it is clear that California's leaders must raise their ambitions as the climate emergency escalates. This year alone, Californians experienced floods, heat waves, wildfires, and even a tropical storm, all within months of each other. The United Nations warned just last week that 'much more action is needed now, on all fronts and by all actors,' if we are to avoid crossing dangerous climate tipping points. California — as the world's fourth-largest economy and a major historical contributor to climate pollution — must raise the bar. As we look to 2024, we urge California lawmakers and Governor Newsom to pursue climate action at the speed and scale this crisis demands."
ENDS
Contact: Ryan Schleeter, Communications Director, The Climate Center: ryan@theclimatecenter.org, (415) 342-2386
About The Climate Center:
The Climate Center is a climate and energy policy nonprofit working to rapidly reduce climate pollution at scale, starting in California. We are a think-tank, do-tank working to turn bold ideas into action for a climate-safe future. Our flagship Climate-Safe California campaign is a unique and comprehensive effort to make California the first state in the nation to reach carbon negative. www.theclimatecenter.org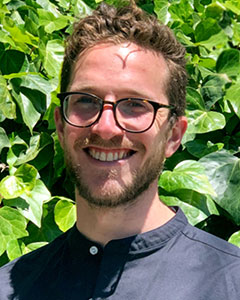 Ryan Schleeter
Communications Director
Ryan Schleeter (he/him/his) joined The Climate Center in 2021, bringing nearly a decade of experience in climate and environmental communications. As Communications Director, he leads The Climate Center's brand, message, content, and digital strategies, helping to grow the movement to secure a Climate-Safe California. 
Read full bio