As an advocate who has worked for years at the intersection of climate policy and technological innovation, I am proud to join The Climate Center as its first Government Affairs Manager. Before joining the Center, I spent six years at a top-tier Sacramento lobbying firm, where I focused on helping California achieve its climates goals by implementing policies that enable and accelerate the development and adoption of climate-oriented technologies, such as zero-emission heavy-duty vehicles, utility-scale renewable energy generation, storage technologies, and resilient distributed energy systems.  
I came to climate advocacy later in life. As a child of the 90s growing up in the smog-choked foothills of Los Angeles, my childhood was filled with consistent environmental messaging, such as the kids' TV show Captain Planet (I'm still a Planeteer at heart) and Woodsy Owl of "Give a Hoot- Don't Pollute" PSA fame. For me, however, the catchy slogans, cheerful but educational commercials, and TV shows didn't provide an explicit pathway to move from awareness of the issue to clear action. 
After graduating from college into the economic recession of 2008, I found myself growing more aware of the power that policy and policymakers have over our lives and future, which sparked a desire to truly engage with those policy processes at a deeper level. This desire prompted me to go to law school in Sacramento, with the express intent of learning the advocacy and analytical skills needed to become effective in the policy world. 
I was lucky enough to land at a well-respected lobbying firm with a strong and growing clean energy and clean transportation practice after law school. There, I learned the ins and outs of how to be a truly effective climate advocate: relationship building with policymakers, cultivating stakeholder coalitions, developing a strong policy knowledge base, and honing a keen sense for legislative strategy and tactics. These lessons were put into practice time and again over the years in different policymaking venues, including the Legislature, the California Air Resources Board, and the California Energy Commission. Those best practices were especially important for efforts that were heavy lifts, including the legislative extension of an energy tariff, the passage of California's landmark medical-aid-in-dying law, the creation of a microgrid tariff through legislation, and the regulatory adoption of a zero-emission bus mandate.
That all said, one of the most valuable lessons from my time in the private sector was coming to the realization that setting policy goals and imposing regulations alone won't necessarily get us to where we need to go: we also need to do what we reasonably can to make the policy environment amenable to the businesses and technologies that can help us mitigate and adapt to climate change. You see, what often gets lost in the shuffle of pronouncements and the setting of high-level climate goals–which are, of course, important markers to set–are the nitty-gritty, bureaucratic processes that pervade any effort to adopt new technologies or strategies. Sometimes, we need to change or remove existing processes, while at other times, we need to create new ones from thin air. In either case, these processes and their enabling statutes represent the pathways necessary to bring to market the technologies and encourage private investment at a scale that will  help solve the climate crisis . Our ability to collectively navigate this intersection will be critical to actually achieving the ambitious and necessary climate goals that we set for ourselves. By intertwining environmental goals with the right policy incentives for businesses in the climate tech industry and ensuring that regulatory agencies implement them correctly, we give ourselves the best shot at mitigating, adapting to, and, ideally, reversing climate change. 
Recently, my work in this space has taken on a new significance, as my wife and I are expecting our first child soon- a baby girl due in July. Any major change in life, such as taking a new job like I just did with the Center, prompts at least some reflection about one's values and life priorities. But the realizations associated with having a baby have made me even more certain that my knowledge and skills will be put to good use with the Center. Bottom line, I'm lucky enough to be able to professionally advocate for a better future for my daughter and for everyone else on this little blue marble. I could not be more proud to be charting this new advocacy course with The Climate Center. (And who knows, maybe I'll even be able to earn an honorary Planeteer ring along the way!)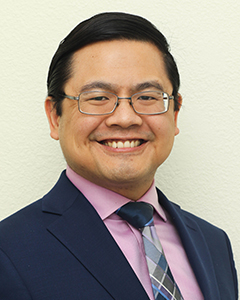 Vincent Wiraatmadja
Government Affairs Manager
Vincent Wiraatmadja is an experienced policy advocate working at the intersection of climate policy and technology.
Read full bio