On March 23, Stockton's City Council will be receiving an informational presentation on a feasibility study examining the opportunities and economic outlook for launching a Community Choice agency. 
A Community Choice Energy program would allow the City to buy electricity at competitive rates on behalf of Stockton residents and businesses and reinvest net revenues back into the community to meet specific needs over time. PG&E would continue to provide distribution services through its power lines, while a governing board of local elected officials would be deciding what electricity sources residents buy from, developing local energy programs, and setting rates for power generation. 
Benefits of establishing a not-for-profit Community Choice agency, or CCA, include consumer choice, local control, enhanced public participation, and more. Potential benefits include offering energy programs that meet community needs, lowering electricity rates, accelerating the transition to renewable energy sources and creating local jobs in sustainable energy development.
If the City Council decides to move forward with a CCA, approximately $100 million in existing annual power generation revenues (the bills we currently pay to PG&E) would be redirected to the City to buy power on our behalf and reinvest in the community. Because they are local, CCAs offer more transparency and opportunities for community input over how power generation revenues are spent. Residents would be automatically enrolled as customers of the new CCA, but would also have the choice to opt out at any time and have PG&E continue to purchase their electricity.
In September of 2020, Stockton council members voted unanimously to select a consultant to conduct the feasibility study.
Some key questions the study addresses include potential rate options, power mixes, opportunities for local energy efficiency programs, governance structures, and start-up costs.
Notably, the study has indicated that the City of Stockton would likely be able to offer its residents and businesses power that is priced at or a few percent lower than that offered by PG&E. 
Additionally, a local CCA could bring multiple economic and employment benefits to the region via expansion of local solar or other renewable development, the implementation of energy efficiency programs, and lower rates. It could also leverage a significant amount of funding for energy efficiency replacements offered by the state that Stockton residents are not currently benefiting from. The Stockton CCA can use its own net revenues for these programs and also has two options under state law to tap into energy efficiency funds that we all pay for in the detail charges on our bill.
As for supporting the clean energy transition, a Stockton CCA would be "well-positioned" to ramp up renewable energy projects around San Joaquin County, driving local job creation. Because the City would likely have a "much greater interest in developing local solar than PG&E, it is much more likely that such development would actually occur with a CCA than without it," the study states. Rooftops and neglected parcels like brownfields all offer great opportunities for renewable energy development throughout the region.
The total estimated start-up costs would be approximately $26.4 million, but start-up means taking control of a $100 million annual existing revenue stream. It's important to note that many of the 24 CCAs in the state have been able to pay off start-up costs within a short timeframe and start reinvesting in their communities through local programming and economic development. 
In moving forward with its own CCA, Stockton would be taking the same steps as 170 California cities and 20 counties. The state's 24 CCAs have collectively invested in 6,000 megawatts of new renewable energy infrastructure, creating thousands of construction jobs in the process. They're now serving over 10 million customers with cleaner energy at rates competitive with or lower than the existing utility in their service areas.
Visit the City's website here to access the March 23 City Council meeting. You can submit a public comment to support Community Choice Energy in Stockton here.
Reach out to davis@theclimatecenter.org to learn more.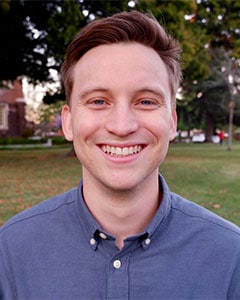 Davis has a background in journalism, with experience on the environment and local government beats. In his work with Rise Stockton – a coalition of nonprofits and the City of Stockton – Davis served as the technical writer for the Sustainable Neighborhood Plan, a framework for shifting to sustainable development practices in Stockton, with an emphasis on planning in historically lower-income communities. Davis has a B.A. in Environmental Studies from the University of California, Santa Cruz.
Read full bio