SACRAMENTO — Today, Senator Bill Dodd (D-Napa) and The Climate Center are introducing the Community Energy Resilience Act (SB 833). The bill proposes a program to assist cities and local governments in developing energy resilience plans using clean, distributed energy resources, curbing the demand for fossil-fueled generators during power outages.
"Not only have recent power outages cost California billions of dollars, but emissions from backup generators have exacted a heavy toll on our environment," said Senator Dodd. "I want to prioritize development of clean energy sources, especially in low-income communities, so we minimize the environmental threat and keep the lights on for everyone."
The Community Energy Resilience Act enables local governments to collaborate with utilities in planning community-scale energy infrastructure, such as solar panels and battery storage, so that communities decide what facilities remain energized during a crisis. Plans are a prerequisite for attracting private and public investments in community energy resilience projects, making them particularly important in light of the recently passed federal infrastructure package.
The Climate Center, a policy nonprofit working across California to rapidly reduce climate pollution at scale, is sponsoring the bill.
"Climate impacts from wildfires to extreme heat waves are disrupting lives and businesses across California," said The Climate Center CEO Ellie Cohen. "The Community Energy Resilience Act represents an important step toward a clean energy future for the state. We look forward to working with Senator Dodd to pass this common-sense legislation and ensure that California's most vulnerable communities benefit first."
A fact sheet about the bill is available here. The full bill text is available here.
ENDS
Contact: Ryan Schleeter, Communications Director, The Climate Center: (415) 342-2386, ryan@theclimatecenter.org
About The Climate Center:
The Climate Center is a climate and energy policy nonprofit working to rapidly reduce climate pollution at scale, starting in California. Our flagship Climate-Safe California campaign is a unique and comprehensive effort to make California the first state in the nation to reach carbon negative.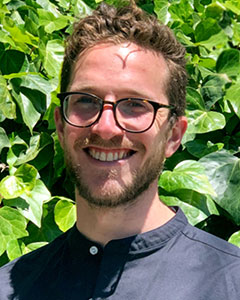 Ryan Schleeter
Communications Director
Ryan Schleeter (he/him/his) joined The Climate Center in 2021, bringing nearly a decade of experience in climate and environmental communications. As Communications Director, he leads The Climate Center's brand, message, content, and digital strategies, helping to grow the movement to secure a Climate-Safe California. 
Read full bio