Four years ago The Climate Center ranked San Jose as its top priority for establishing a Community Choice program due to its size and location at the center of innovation worldwide. Yesterday, the vision became a reality.
"While leaders in Washington continue to languish in a petroleum-fueled past, cities like San Jose will chart the path to a more sustainable future," said Mayor Sam Liccardo. "Through our CCE program, we will significantly lower our greenhouse gas emissions and boost our renewable energy supply, while also providing cost-competitive electricity rates for our residents and businesses."
"This is a really big deal," said The Climate Center Deputy Director Barry Vesser. "This is the largest city in California to adopt the program, and it's going to change the energy landscape for the state as other counties come along."
San Francisco Chronicle coverage>>
San Jose Mercury News coverage >>
Video of San Jose CCE deliberation, public comment, and vote >> 
Mercury News @RamonaGiwargis was live tweeting. She quoted Ann Hancock, Russ Hancock, Rod Diridon, Kerrie Romanow, and the city council members.
Center for Climate Protection Executive Director Ann Hancock asks the council to vote "yes" for CCE.
Thanks to all who helped make this BIG achievement happen, including Mayor Liccardo and the City Council members, Russ Hancock, Michael Gross, Margaret Bruce, Michael Closson, Ruth Merino, Julie Allingham, Kerrie Romanow, Ashwini Kantak, Julie Benabente, Scott Green, the visionary philanthropists who funded our work in Silicon Valley, San Jose Community Energy, Joint Venture Silicon Valley, the League of Women Voters, Mothers Out Front, Sustainable Silicon Valley, the Sierra Club, Adobe, Sunpower, the CCA leaders who shared their experience, and many others.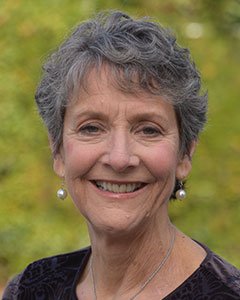 Ann Hancock
Co-Founder of The Climate Center
Ann co-founded The Climate Center in 2001. She has been a key leader in the rapid growth of Community Choice Energy, which now serves over 11 million Californians with 88 percent clean energy. Through her leadership, the organization built a strong core team that is focused on a theory of change that drives our mission. Ann holds a Master's degree in Public Health Administration and Planning from the University of California, Berkeley.
Read full bio