Welcome to Jeri Howland, new Director of Philanthropy! 
Below is her personal introduction.
---
Hello, I'm Jeri! I am very excited to join The Climate Center as the new Director of Philanthropy. The Climate Center's Climate-Safe California campaign and support base align perfectly with my values and vision for our collective future. With all that we have been through this year, many of you have been willing to stretch further financially to support our vital work as it scales up rapidly. For me, this is inspiring! This is the time to reverse the climate crisis!
About me: 
I have been working on social, economic, and racial justice since I was in the 6th grade. My motivations have not changed much since then. I grew up in rural Vermont, playing many outdoor sports over four distinct seasons, eating local food, commuting to school by bike, skis, or foot. Everything we needed seemed to be right outside our door. In many ways,  my current life is a lot like this; nature is still my best friend. However, what I have learned as an adult is that my idyllic childhood was privileged and unique compared with the experience of most American children. 
Speaking of unique, I am an identical twin. My sister was very interested in fairness. When she heard about the United Farm Workers' grape boycott, she went ballistic, which led to "our" picketing in front of our local grocery store (this was in 6th grade).. Soon after (1970), the farm labor movement in America was revolutionized,  so "we" became vegetarians as a means to environmental protection. We were heavily influenced by Frances Moore Lappe's book, Diet for a Small Planet, the first major book to note the environmental impact of meat production and the corporate control of food systems. Along the way, we were extremely active in the anti- Vietnam War movement, and the anti-nuke movement.  My first job was at the American Friends Service Committee in San Francisco. They work for peace and social justice throughout the world, and my work was in the sustainable food movement. At age 22, I was a key player in the creation of the first certified farmers market in the Bay Area, which we then scaled to the entire San Fancisco Bay Area, and beyond. Along the way I earned a graduate degree in Public Health, from U.C. Berkeley, and eventually returned to Vermont to teach at The Putney School. That's when fundraising hit my radar.
My fundraising success runs across a 30-year history. During the past two years, I stepped out on my own to provide fundraising support to the organizations that rank on my shortlist for  most relevant (to me) and high impact. My services ranged from strategic fundraising planning and capital campaign consulting to executive director coaching. Clients have included: Protect Our Winters (POW; Boulder, CO), Sun Valley Institute for Resilience (Ketchum, ID), Child Mind Institute (NY, NY), Oceanic Preservation Society (led by Academy Award documentary filmmaker Louie Psihoyos), and more. Before this, I served for almost eight years as Development Director at Rainforest Action Network;  for 13 years as Director of Development at Katherine Delmar Burke School (all-girls, K-8 independent school);  as the Chief of Advancement, Envision Schools College-Prep Charter Management Organization,  to improve education for underserved children as well as at a public education think tank, Partners in School Education. I am drawn to missions that include education, climate change, human rights, and community resilience.
On a personal note, I have competed all over the world at the Ironman triathlon, setting a world record at age 46, attending world championships annually, and competing at ultrarunning in the off-season. Twelve years ago, I started bungalow munch organic granola, which now has a loyal customer base all over the country. However, my greatest accomplishment is my  daughter, a high school teacher in San Francisco with a two-year-old and one on the way! My husband is also named Jerry. He has been the COO of the Yosemite Conservancy for 25 years, and he is my favorite training partner!
I am absolutely thrilled to join The Climate Center with its critical and time-sensitive mission, wonderfully driven and brilliant staff, and board of directors! There is nothing I would rather do than bring my fundraising expertise to support the targeted programs and campaign(s) here. Fundraising turns out to be the link in the big chain that can make all the difference. So, I hope you'll join me for this great adventure ahead.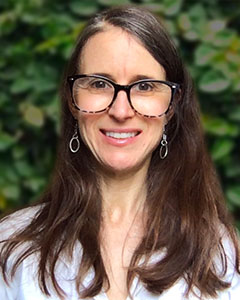 Stacey Meinzen
Communications Manager
Stacey Meinzen has nineteen years of experience as a communications and research professional.
Read full bio