As Halloween approaches, it seems fitting to revisit recent advice from the energy experts at the Rocky Mountain Institute. If you want to keep the lights on when zombies or other calamities come knocking at your door, it might be a good idea to have invested in microgrid technology.
It's a scary thought to think of the power going out when you need it most – during storms, natural disasters, and of course, on Halloween night. Microgrid technology has the reassuring feature of being able to continuing to operate when all else fails. A case in point is the fact that during Superstorm Sandy, the lights stayed on at New York University's Washington Square Campus thanks to its microgrid system.
Smart microgrids are modern, small-scale versions of the larger centralized electricity system. They feature every component of the larger system, meaning that they generate, distribute, and regulate the flow of electricity to consumers, but they do so on a localized basis with cleaner generation technology.
Even when zombies are not on the attack, microgrids can be designed to achieve specific community-based local goals such as greenhouse gas emission reduction, diversification of energy sources, reliability, and cost reduction. Smart microgrids are an ideal way to integrate renewable resources on the community level and allow for customer participation in the electricity enterprise.
The truly scary thing is the aging, antiquated, vulnerable electric grid that has not changed in one hundred years, and on a daily basis leaves us short-changed in terms of the potential benefits that can be obtained by developing smart, efficient microgrids. The Climate Protection Campaign has embarked on a program to explore how California communities can accelerate the development of this exciting new technology – before it's too late!
   – Woody Hastings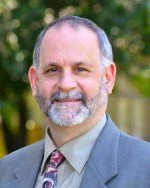 Woody Hastings
Phase Out Polluting Fuels Program Manager
Woody Hastings has served as The Climate Center's Energy Program Manager since 2010. He is an energy and environmental policy analyst, strategic planner, and community organizer with over thirty years of experience in the non-profit, governmental, and private sectors.
Read full bio