By Susan Bryer-Shelton, Energy Program Coordinator for The Climate Center
As a solar energy advocate, I admit to experiencing a bit of an elevated heart rate whenever I have the opportunity to check out a bright and shiny new solar installation. There's something inherently exciting to me about each and every person's newfound commitment to harnessing the sun's energy.
When Astrid Romanini decided to pull up a few rows of grapes on her east Sonoma property, she freed up an ideal site for a solar array — a level, southwest facing site with ample room for a ground-mounted system. (A ground-mounted system suited her best so she did not have to disturb her home's curved tile roof.)
Astrid was motivated to go solar after 40 years on the property because "it just made sense," particularly now while the Federal tax credit remains at 30%.
She wasn't sure how to get the process started, so she reached out for a free solar consultation with the Sonoma County Energy and Sustainability Division (ESD). After talking with Astrid and assessing her situation, ESD encouraged her to call Solar Sonoma County to receive three bids from qualified local contractors.
Ultimately Astrid selected Pathways Energy to manage the 17.5KW project. Pathways' Dan Lambert, working together with another Solar Sonoma County qualifed vendor Ali Ghorbani of Jag Solar Electric, studied the property's electricity use for the past year and worked with Astrid to assess what future new electricity demands might be in the works. The property's existing electrical load includes Astrid's residence and swimming pool equipment, as well as a sizable commercial refrigerator for an herb distribution operation that works out of the property.
Astrid intends to "fuel switch" her residential heating system from a central propane furnace to efficient electric heat pumps. While heat pumps are not as common in the US, Astrid is confident in them:  "I know they work, because my sister who lives in Oslo (Norway) uses them and they work great for her," she says.
Astrid also has her eyes on an electric car when she decides to retire her 1995 Honda, which for the time being suits her just fine. Pathways took these upgrades into consideration when sizing her system, so she'll be all set to "electrify everything" over time and maximize her solar system's impact.
Will 2019 be your year to go solar? Solar Sonoma County is here to help. You can check out our vendor roster here or give us a call at (707)654-4350. We'll connect you to three qualified solar vendors who are active participants in the local solar community. They'll provide free consultations without high pressure. Please let us know how we can assist you.
And when your beautiful new system is installed, I'd welcome the opportunity for a visit.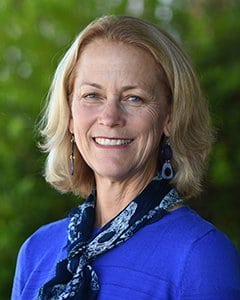 Read full bio