Hello, my name is Nina Turner and I am the new Renewable Energy Program Associate for The Climate Center.  While I am originally from the concrete jungle of Los Angeles, my love of the natural beauty found in Sonoma County piqued my interest in environmental issues and led me to major in Environmental Studies at Sonoma State University. I recently graduated, and my time at Sonoma State greatly shaped my current interests. During my time in school I enjoyed volunteering for various social justice and environmental causes – from packaging food at Redwood Empire Food Bank to hosting a clean-up party for the Copeland Creek, I found this kind of work very rewarding.
All that time spent volunteering outdoors and learning about my local environs led me to my my concentration in Energy Management and Design. From there I quickly gained an interest in climate change, energy policy, green buildings, and issues facing local environmental organizations. I've been following The Climate Center for the past few years and I'm so pleased to now join the team!
During my time at The Climate Center I hope to learn more about statewide efforts and policies that promote Community Choice Energy. I look forward to being an advocate for Community Choice and to leading the way to a clean energy economy that benefits everyone.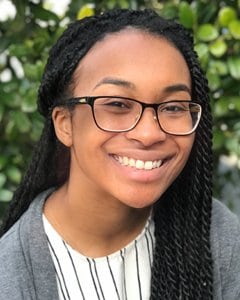 Nina Turner
Energy Programs and Communications Coordinator
Janina is a graduate of the Energy Management and Design program at Sonoma State University with experience in non-profits that specialize in sustainability and volunteerism.
Read full bio