A local Community Choice Energy program could keep the ball rolling
A new solar farm at Foothill Landfill in Linden has hummed to life, offering $11.9 million in energy cost savings and 5.3MW of clean energy for the San Joaquin County government departments over the next 20 years. It's a promising development as the City of Stockton explores launching a Community Choice Energy program to offer cleaner energy at competitive rates. Will San Joaquin County be next?
[av_hr class='invisible' icon_select='yes' icon='ue808′ font='entypo-fontello' position='center' shadow='no-shadow' height='5′ custom_border='av-border-thin' custom_width='50px' custom_margin_top='30px' custom_margin_bottom='30px' custom_border_color=" custom_icon_color=" id=" custom_class=" av_uid='av-10ebk7r' admin_preview_bg="]
The county's solar project
About five years ago, the county Board of Supervisors approved a power purchase agreement (PPA) and a lease for Ameresco Inc. to build a ground-mount solar photovoltaic system at the landfill. Following permitting delays and uncertainty over PG&E rates, the board approved amendments to the PPA and lease in 2018 to push the project forward. Construction was completed Nov. 17, 2020. 
Ameresco installed 13,770 solar modules rated at 385W-DC each, as well as 29 solar inverters rated at 125kW-AC each, enough to power over 800 homes, the company announced in a press release. The solar arrays were built on a portion of the landfill that will be unneeded for waste disposal for at least the next 25 years. The new facility is the second project the county has worked with Ameresco on at the site, the other being a 4.3 MW landfill gas to energy project.
With the new generation site, county departments are estimated to collectively save approximately $11.9 million in energy costs over the next 20 years via California's Renewable Energy Self-Generation Bill Credit Transfer program. San Joaquin General Hospital is set to receive 51% of the savings resulting from the facility, with the rest divided among the Human Services Agency, Sheriff's Office, Health Care Services, Public Works, and Parks and Recreation budgets. As an added bonus, the Solid Waste Enterprise Fund received an up-front lease payment of $500,000 upon completion of the project.
County Supervisors Kathy Miller and Chuck Winn were quoted in the press release touting the economic and environmental benefits of investing in renewable energy development.
"San Joaquin County, and its local communities, have long prioritized the development of renewable energy resources, both for reducing emissions and supplementing existing electricity generation," said Chair Kathy Miller. "In addition to its environmental impact, the solar energy system will provide further utility cost savings to our region, which will directly benefit residents and local governments' ability to better serve its constituents."
Winn stated, "As a leader in green energy, San Joaquin County is always looking for ways to provide an improved environment for our residents while at the same time providing cost savings to taxpayers."
Check out this video to learn more about the project. [av_hr class='invisible' icon_select='yes' icon='ue808′ font='entypo-fontello' position='center' shadow='no-shadow' height='5′ custom_border='av-border-thin' custom_width='50px' custom_margin_top='30px' custom_margin_bottom='30px' custom_border_color=" custom_icon_color=" id=" custom_class=" av_uid='av-wcoxnb' admin_preview_bg="]
A Community Choice Energy program could ramp up local renewable energy development
We're encouraged to see local, innovative investment in renewable energy, and we hope the county's next move will be to evaluate Community Choice Energy, as the City of Stockton and more than 160 other California cities have done. 
When Ameresco's lease at the landfill site is up with the county two decades from now, the solar farm will become the property of the county. Wouldn't it be great to be able to own that electricity and continue to build local capacity rather than selling it to another area? A Community Choice agency would make that possible.
By taking the steps to procure power on behalf of residents and businesses at competitive rates, San Joaquin County could take a lead role in coordinating renewable energy projects across its 900,000-plus acres of land. That could include initiating large-scale and small-scale solar projects, using vacant parcels, rooftops and parking lots with the potential of bringing jobs to the area. Given that Community Choice agencies (CCAs) are not-for-profit entities operated by the local government, more of the benefits of such projects can be retained in the San Joaquin County community.
Numerous other benefits CCAs have provided around the state are reasons to pursue the program as well. Those include support for electric vehicles, innovative energy storage projects, bringing residents a voice and a choice in local energy decisions, generating reserve funds that can be reinvested into the community through tailored programs, and offering competitive power generation rates, among others. Community Choice Energy is precisely the kind of economic innovation the county should be pursuing in its post-COVID roadmap.
The Climate Center recently co-hosted a business forum with The San Joaquin Partnership to provide the Stockton business community with information and updates about the City's ongoing evaluation of launching a CCA. You can view the recording of that forum here to learn more about Community Choice Energy opportunities in Stockton and San Joaquin County.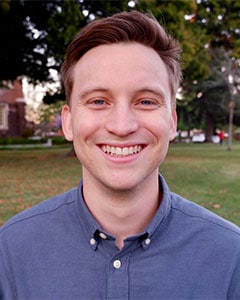 Davis has a background in journalism, with experience on the environment and local government beats. In his work with Rise Stockton – a coalition of nonprofits and the City of Stockton – Davis served as the technical writer for the Sustainable Neighborhood Plan, a framework for shifting to sustainable development practices in Stockton, with an emphasis on planning in historically lower-income communities. Davis has a B.A. in Environmental Studies from the University of California, Santa Cruz.
Read full bio