On the evening of March 22nd, over 100 people convened in downtown Santa Rosa to support the launch of the Clean Cars Campaign. The Climate Center (CCP) is mobilizing supporters and organizations throughout the state to support landmark legislation from Assemblymember Ting (D – San Francisco). His bill would allow only new zero-emissions vehicles to register in California starting in 2040. This legislation would be the most progressive step taken to address transportation emissions by any state in the country. California would join 15 other nations that have made similar commitments.
The launch event featured Efren Carrillo as the emcee. The first (virtual) speaker was Assemblymember Ting himself, who had recorded an exclusive video specifically for this event. Ann Hancock, CCP's Executive Director, spoke to the urgency of addressing emissions due to transportation, and outlined the overall campaign strategy. Richard Heinberg, the keynote speaker and an internationally known climate thinker and writer, situated this legislation within the larger movement towards renewable energy and emphasized how important it is to reduce transportation emissions. (CCP recently released a report that shows that greenhouse gases from transportation constitute a whopping 65% of Sonoma County's total.) And Jake Mackenzie, City Councilman from Rohnert Park and the Chair of the Metropolitan Transportation Commission, described the importance of moving to a clean transportation system.
The event closed with attendees filling out Call to Action cards as a way of committing to a variety of tasks that would help the bill move forward. The Clean Cars Campaign is people-powered – it relies on grassroots activism to communicate to elected officials that Californians are ready to transition to the clean economy of the future. The launch event was a celebration of our potential: that groups of dedicated and passionate individuals can make this a better world for all of us. Attendees reported that the event left them feeling uplifted and energized.
The Clean Cars 2040 Act will be voted on in the Transportation Committee on April 16th, so the time to act is now. If you'd like to make your voice heard in support of the Clean Cars 2040 Act, please visit this page which details our campaign strategy and lists a number of actions you can take.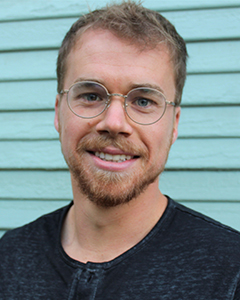 Jock worked in community health, substance abuse education, and life coaching before moving into the climate field. Previously, he started and ran a fossil fuel divestment campaign on his college campus and was a regional recruiter with 350.org for the Power Shift climate activist conference. When he's not working, he likes to trail run, play guitar at open mics, and read about psychology.
Read full bio