The Climate Center's Community Energy Resilience Policy Summit will address equitable approaches to clean energy resilience programs.  August 5, 2020, 9 AM – 12 PM.
---
As awareness of systemic poverty and racism grows, government policies and programs beyond police force budgets and protocols are also getting attention. The media is shining light on toxic oil and gas infrastructure – from freeways to oil refineries – that are often sited in lower-income communities, close to homes, schools, and hospitals and polluted air that leads to significantly lower life expectancy and higher rates of asthma, cancer, and other diseases. 
In California, programs designed to promote clean energy are more likely to benefit the rich than the poor who need them most. With the approaching power shut-offs that California is expecting this fire season, this inequity will continue to grow. While all communities are disrupted and suffer from power outages, lower-income households are likely to suffer most. This is because they have fewer resources to rely on in the event of an emergency, and less ability to absorb financial losses from outages. While wealthier Californians may buy back-up batteries or generators, less affluent residents can't afford them. These same residents often suffer higher rates of respiratory illness due to pollution and are especially vulnerable when fossil backup generators are widely used during a power shut-off. And food security is an especially acute problem for low-income households that rely on school meal programs that are not accessible during power shut-offs because of the lack of refrigeration. 
A number of studies have highlighted inequities created by clean energy incentive programs. Perhaps the most striking findings come from Eric Fournier at UCLA's Institute of the Environment and Sustainability, with a report showing how inequities in incentives for things like rooftop solar and electric vehicles place a larger burden of cost on the least affluent, and reward wealthier people. This is especially unfortunate given that lower-income communities are using less energy than wealthier communities and are less responsible for climate change.
While there's a lot of work yet to be done, over the past decade Environmental Justice advocates have had remarkable successes in crafting new state policies and programs to provide more equity for lower-income communities. This trend and more will be discussed at The Climate Center's Community Energy Resilience Policy Summit on August 5th. Panelists will outline how we can meet the challenges of enhancing clean energy resilience while avoiding exacerbating inequalities that these incentive programs often create.
The Summit will feature an opening keynote address by Carmen Ramirez, Mayor Pro Tem of Oxnard, followed by a panel providing an overview of what the state is doing now for clean energy resilience featuring Janea Scott, Vice-Chair of the California Energy Commission; Genevieve Shiroma, Commissioner of the California Public Utilities Commission; Eric Lamoureaux from the California Office of Emergency Services, and California Senator Henry Stern. 
A subsequent panel will provide a labor perspective, including Mark Kyle, former Chief of Staff of the California Federal of Labor, Jennifer Kropke, Director of Environmental and Workforce Engagement, IBEW, Local Union 11 & National Electrical Contractors Association Los Angeles County; and Vivian Price, researcher for the Labor Network for Sustainability and CSU Dominguez Hills Professor specializing in labor and climate change.
An Environmental Justice panel will be moderated by Janina Turner, a lead organizer in Sonoma County's Sunrise Movement. Panelists include Mari Rose Taruc, movement organizer for environmental justice & climate solutions at Reclaim Our Power; Gabriela Orantes, a Just Recovery Fellow at the North Bay Organizing Project; and Nayamin Martinez, Executive Director of the Central California Environmental Justice Network.
The final panel, highlighting energy resilience programs of Community Choice agencies, will be moderated by Carolyn Glanton, Programs Manager at Sonoma Clean Power. Panelists include Sage Lang, Energy Program Coordinator/Analyst for Central Coast Community Energy; Stephanie Chen, Senior Policy Counsel at MCE; and JP Ross, Senior Director of Local Development, Electrification and Innovation for East Bay Community Energy. 
As California turns its attention to building energy resilience in the face of more power outages, policymakers must prioritize clean energy resilience in California's lower-income communities. This will ensure that the Californians who are the least responsible for climate change are not suffering its worst consequences.
Register for the August 5th policy summit HERE.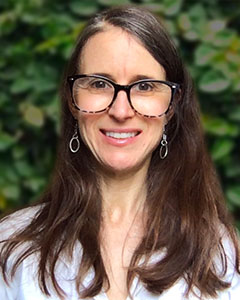 Stacey Meinzen
Communications Manager
Stacey Meinzen has nineteen years of experience as a communications and research professional.
Read full bio