My work in education emphasized reverence for the natural world. As the Office Administrator, I daily witnessed children making connections to the environment and was amazed by how effortlessly these young people understood the interconnectedness in every part of the world around them. Toddlers and preschoolers tended classroom gardens and experienced the joys of producing their own salads. Elementary students cared for the chickens and sold the eggs to raise funds for field trips. They learned about the relationship between farming, gardening and the carbon cycle. On the playground, students were observing wildlife (foxes, deer, hawks, and insects) and taking special care not to harm any of the living creatures around them.
Over the last five years, students' outdoor play became increasingly restrictive due to dangerous air quality that resulted from wildfires. It was disheartening to watch how the undeniable impacts of climate change created a new normal. Young children wore N95 masks to play outside and required advanced air filtration in the classrooms.
I draw on those moments, watching the sense of wonderment in so many children, as inspiration to conduct the necessary work to support the executive team and the crucial mission of The Climate Center.
I am grateful to know that I may contribute to an organization that seeks to better the planet for future generations.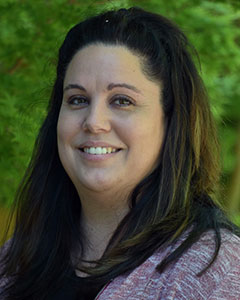 Julie Heric
Development Manager
Julie has 15 years of administrative, financial, and executive support experience in both nonprofit and for-profit settings.
Read full bio