I am thrilled to join The Climate Center as a Senior Climate Researcher. I am an economist who started my career teaching in universities in England, Canada, and the United States. Included in the varied career hats I have worn was a spell in a private corporation, where I was told to find what the company was doing wrong and to put it right. That kept me busy! I have also worked at the Union of Concerned Scientists as their Climate Economist and developed analyses and testimony in support of Assembly Bill 32 (AB 32), the Global Warming Solutions Act of 2006. Specifically, I directed the report on the "Economic Impacts of Assembly Bill 32 on California Small Businesses," which successfully rebutted misleading testimony on the likely economic impacts of the then-pending climate change legislation.
The urgency of taking action on climate change first resonated with me after a talk by Van Jones at the Commonwealth Club in San Francisco. On a school night, after I had dragged my family along to the talk despite the exhaustion of a busy day, we were all spellbound by his talk. He spoke with passion and described his vision of green jobs and a sustainable future where humankind gave as much to the earth as we took from it.
It is this imbalance between what humanity takes from nature and what it leaves behind that motivates my ambition to work in this area. Humankind is steadily depleting and degrading Earth's natural capital resources, including its air, soil, geology, water, and all living organisms. Since many of the services from these valuable assets are 'free,' people tend to use them recklessly. This has dire consequences for human welfare via climate change and the loss of biodiversity. There is a pressing need to restore these valuable assets before irreparable harm is done. I believe we must revolutionize our thinking to include nature as an integral part of our lives and not separate from it. This means taking a holistic approach in which the pricing of resources used in consumption and production includes the full social and environmental cost.
One lesson I learned while researching these issues is that we continually underestimate our capabilities for change. I remember testifying before the California Energy Commission (CEC) in support of more stringent efficiency standards for televisions. The TV Manufacturers Association, fighting the regulations, predicted doom and gloom for the industry as a result of the 'onerous' standards. The CEC passed the regulations and within a week almost all TV makers in California had more efficient TVs for sale in the stores. I think the economic impact on the industry in California was barely noticeable.
Business leaders often view change as more costly than keeping the status quo, a serious misperception. Our current economic policies are fundamentally flawed because they fail to value and price nature. The status quo needs to change. The consequences of not changing are the continual degradation of our natural ecosystem and a dangerous risk to human survival. We need big, bold policy changes to reimagine our way of thinking and living. This is part of The Climate Center's platform, which explains why I am excited to be on this journey at The Climate Center — to advocate and participate in this much-needed transformation.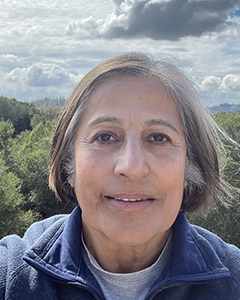 Jasmin Ansar
Senior Climate Researcher
Dr. Jasmin Ansar joined The Climate Center in September of 2022 as a Senior Climate Researcher to research and develop optimal policies to address the climate change emergency at speed and scale.
Read full bio