Those who know me are naturally curious when learning the news that Ellie Cohen became the new CEO of The Climate Center (formerly the Center for Climate Protection). Am I retiring? Cutting back? Motivated by some other personal reason? This concern really touches me. Here's the backstory.
The move to hire Ellie was strictly mission-driven – something I initiated. We've known each other since 2005. I'm enormously impressed by her vision, smarts, strategic acumen, fundraising track record, energy, and joy.
When I heard at the beginning of the year that she sought a climate leadership position, I jumped at the chance to ask her if she might consider becoming the head of our organization. Although I wasn't looking to change the job I love, Ellie's availability presented a unique opportunity. With her, we could vastly strengthen our team to address the climate crisis. Through months of exploring with her, this possibility became a reality. Ellie saw in us an ideal platform for launching a rapid statewide decarbonization campaign. In August, our board and Ellie struck an agreement. I was and am thrilled.
Ellie began work here on September 3. I am staying on staff full time. Yes, this arrangement is unusual, but it's a really good one. My new title is Chief Strategist, a role that will evolve over time. My first job is supporting Ellie as the new CEO. For me working with her has been exciting, intense, and inspiring.
Roll up your sleeves, everyone. Together we will enact the rapid decarbonization policies that put us on the path for a safe climate, starting in California!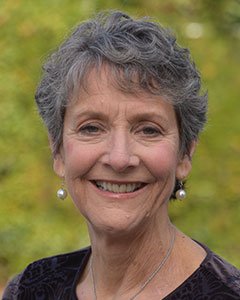 Ann Hancock
Co-Founder of The Climate Center
Ann co-founded The Climate Center in 2001. She has been a key leader in the rapid growth of Community Choice Energy, which now serves over 11 million Californians with 88 percent clean energy. Through her leadership, the organization built a strong core team that is focused on a theory of change that drives our mission. Ann holds a Master's degree in Public Health Administration and Planning from the University of California, Berkeley.
Read full bio