SACRAMENTO — Today, Governor Newsom unveiled the California Blueprint, the first draft of his administration's plans for spending California's $45.7 billion budget surplus. The budget includes $22.5 billion for climate programs over five years, including $6 billion to accelerate the adoption of electric vehicles, $9 billion for other low-carbon transportation initiatives, $2 billion for clean energy infrastructure, as well as investments in community resilience, housing, green job creation, and more. 
In response, The Climate Center CEO Ellie Cohen said:
"We applaud Governor Newsom for proposing $22.5 billion to invest in climate programs over the next five years. We're particularly pleased to see the governor's focus on decarbonizing the energy, industrial, and transportation sectors while enhancing energy resilience. We commend the emphasis on prioritizing vulnerable communities that suffer the most from air pollution, extreme heat, and power outages. Finally, we welcome the governor's attention toward natural climate solutions to increase climate resilience and prepare communities for worsening climate impacts.
"However, much more is needed to advance solutions at the speed and scale science demands.
"California is already in the throes of climate emergency and our own elected officials acknowledge that we've fallen behind the rest of the world in addressing climate pollution. Much greater investments are needed sooner to save lives and dollars. For example, investing significantly more in clean, safe, resilient, locally-developed energy resources will save countless lives and dollars down the line. We urge Governor Newsom to commit $1 billion in targeted investments toward community energy resilience planning and project development to keep the power on 24/7 in the face of growing extremes."
In September, the Newsom administration committed a historic $15 billion to climate programs, including $4 billion for electric vehicles, $5 billion for drought management, and $1.5 billion for wildfires, forest management, and prescribed burns in the state of California. The majority of these investments are focused on adapting to climate impacts rather than efforts to cut greenhouse gas pollution. As one recent report found, California is well behind the pace necessary to meet its current (inadequate) goals for greenhouse gas emissions reductions by 2030.
The Climate Center — together with scientists and health experts — continues to urge Governor Newsom to not only address climate mitigation in the state budget but also use his executive powers to halt all new oil and gas infrastructure permits and pursue a just transition for impacted workers and communities. In a speech introducing the California Blueprint this morning, Governor Newsom alluded to an "oil-free future" for the state but did not announce any concrete initiatives to phase out oil and gas extraction or refinement. California is the seventh-largest oil-producing state and third-largest refining state in the nation. 
The proposed budget unveiled today will go through several revisions before being approved by the state legislature in June 2022. The full draft budget is available here.
ENDS
Contact: Ryan Schleeter, Communications Director, The Climate Center: ryan@theclimatecenter.org, (415) 342-2386
About The Climate Center: 
The Climate Center is a climate and energy policy nonprofit working to rapidly reduce climate pollution at scale, starting in California. Our flagship Climate-Safe California campaign is a unique and comprehensive effort to make California the first state in the nation to reach carbon negative.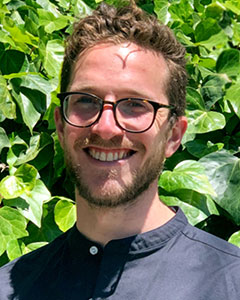 Ryan Schleeter
Communications Director
Ryan Schleeter (he/him/his) joined The Climate Center in 2021, bringing nearly a decade of experience in climate and environmental communications. As Communications Director, he leads The Climate Center's brand, message, content, and digital strategies, helping to grow the movement to secure a Climate-Safe California. 
Read full bio