Santa Rosa, California, July 12, 2021 — Late on Friday, Governor Gavin Newsom directed the California Air Resources Board (CARB) and California Public Utilities Commission (CPUC) to explore accelerated action to reduce climate pollution. CARB will model a pathway to carbon neutrality by 2035, ten years ahead of the state's current goal, and the CPUC will establish a more ambitious emissions target for electricity procurement by 2030. 
In response, The Climate Center CEO Ellie Cohen said: "This is a vital step in the right direction for Governor Newsom, and we applaud him. However, the science and climate reality demand we do even more. California is feeling the devastating impacts of drought, extreme heat, and wildfires today. Achieving carbon neutrality by the state's current goal of 2045 is far too late."
Last week, The Climate Center and 25 other leading California climate and environmental organizations sent a letter to CARB urging them to examine a wider range of accelerated climate action scenarios, including those that achieve carbon neutrality and net-negative emissions sooner than the state's 2045 deadline. CARB is at the beginning of a months-long process to update its Scoping Plan, which determines pathways for California to reduce emissions and meet its climate goals. 
Ms. Cohen added: "We have the technology and know-how to equitably achieve carbon neutrality followed by net-negative emissions by 2030, but we must act soon. That is the only way to protect the health and safety of frontline communities, ensure water and food security for everyone, and protect wildlife. With climate change escalating faster than models projected, we urge Governor Newsom and CARB Chair Liane Randolph to plan for more ambitious, accelerated scenarios and align the state's goals with the latest climate science."
A recent study by California-based scientists and climate experts suggested that net-negative emissions by 2030 is achievable. The Climate Center — a statewide climate and energy policy nonprofit founded in 2001 — has identified a four-pronged approach to reaching net-negative emissions by 2030 in its Climate-Safe California campaign. Endorsed by more than 1,200 climate scientists, policymakers, businesses, and individuals, it calls for:
Accelerate the phaseout of fossil fuels (oil, gas, and coal) responsible for the vast majority of climate pollution; 

Scale up carbon sequestration solutions on natural and working lands through improved soil and habitat management;

Invest in resilient, equitable, climate and clean energy preparedness initiatives; and

Increase public funding for climate action to leverage much greater private investment. 
ENDS
Contact: Ryan Schleeter, Communications Director, The Climate Center: ryan@theclimatecenter.org, (415) 342-2386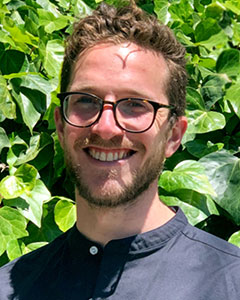 Ryan Schleeter
Communications Director
Ryan Schleeter (he/him/his) joined The Climate Center in 2021, bringing nearly a decade of experience in climate and environmental communications. As Communications Director, he leads The Climate Center's brand, message, content, and digital strategies, helping to grow the movement to secure a Climate-Safe California. 
Read full bio