This past weekend I participated in an interpretive tour of the Jenner Headlands, organized by the Leadership Institute for Ecology and the Economy. I was not anticipating that the tour would relate directly to my work helping to establish Sonoma Clean Power. However, it became clear early in the presentation that it just may.
A significant part of the forest ecosystem restoration activities planned for the 3100 acres of redwood and Douglas fir forest includes thinning of a substantial quantity of biomass over a period of several decades. The conservation biologists tell us that this kind of management can accelerate the pace at which the existing forest develops a mature, healthy forest ecosystem. The existing forest hosts a diminished ecosystem that has emerged in the aftermath of clear-cutting that occurred in the 1960s.
Not far from the protected forest is Berry's Saw Mill, a facility that has the capacity to receive, process, store, and maybe even convert some of the material, possibly combined with other biomass feedstocks, into electrical power in a process called anaerobic digestion.
Biomass conversion is one of four key renewable energy technologies that Sonoma Clean Power hopes to take advantage of. As an agricultural area, Sonoma County may be able to take what is currently waste material and convert it into usable energy in a way that creates jobs and reduces greenhouse gas emissions.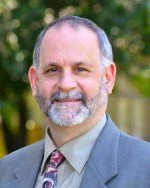 Woody Hastings
Phase Out Polluting Fuels Program Manager
Woody Hastings has served as The Climate Center's Energy Program Manager since 2010. He is an energy and environmental policy analyst, strategic planner, and community organizer with over thirty years of experience in the non-profit, governmental, and private sectors.
Read full bio