Kudos to Kristin who, after three years as The Climate Center's Development Director, will join the Leakey Foundation, based in the Presidio.
Kristin lists the following lessons she learned while at The Climate Center:
Through conversations, we gain fellowship, knowledge, and communication skills to come off the sidelines and help lead the climate movement.
Conversations are the only way to depolarize issues: once we learn that it isn't productive to shame or blame, we can take responsibility to act and own solutions.
We must say, "Yes, AND…" As Kat Taylor of Beneficial State Bank says, "We live in these terribly complex, interconnected times. There is not going to be a silver bullet or single dimensional approach. Some solutions are better than others. All are useful.
We can hope because we are not alone, we are aware, and we agree that is it worthwhile to pursue known solutions to solve the climate crisis.
This issue impacts everyone. Young people. Old people. Bankers. Bakers. Attorneys. Scientists. Grocers. Doctors. Politicians. Accountants. Farmers. Architects. Planners. Artists. Mayors. Poets. Engineers. Homeless. Seniors.
Kristin says that her climate-centric worldview meshes well with the Leakey Foundation's mission, to increase scientific knowledge, education, and public understanding of human origins, evolution, behavior, and survival.
Kristin started monthly climate conversations to engage you, and she encourages you to register for a climate conversation today here.
We will sorely miss Kristin's dedication, brilliance, and perennially sunny approach to life. We are deeply grateful for her vast accomplishments while at The Climate Center and wish her well in her admirable new endeavor, which is certainly worthy of her.
Ann Hancock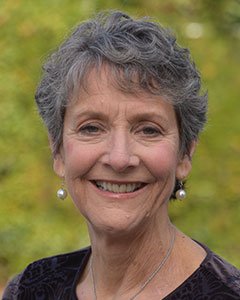 Ann Hancock
Co-Founder of The Climate Center
Ann co-founded The Climate Center in 2001. She has been a key leader in the rapid growth of Community Choice Energy, which now serves over 11 million Californians with 88 percent clean energy. Through her leadership, the organization built a strong core team that is focused on a theory of change that drives our mission. Ann holds a Master's degree in Public Health Administration and Planning from the University of California, Berkeley.
Read full bio