The Department of Energy recently released a report, Revolution…now about the current state of the clean energy revolution.  The fossil fuel industry is clearly reacting against the momentum of the renewable energy industry.  During the Obama administration, clean energy costs dropped up to 94 percent.
Here are statistics that indicate that renewable energy can win the battle:
Land-based wind accounted for 41 percent of all new capacity brought online in 2015. Overall, wind generated enough electricity to power more than 17 million households.
Utility-scale solar PV represented 15 percent of all newly installed electricity generation capacity in 2015. Overall utility-scale PV generated enough electricity to power over 2 million homes.
Distributed solar PV has reached one million rooftop installations on homes and businesses after experiencing a 54 percent reduction in overall costs since 2008.
In total, wind and solar accounts for two-thirds of all new, U.S. installed electricity capacity.
Installation of LED A-type bulbs exceeded 200 million through 2015 – growing 160 percent over 2014.
Total sales of electric vehicles (EV) has soared closer to the half million mark with 490,000 EVs on the road as of August 2016.
source: http://energy.gov/articles/secretary-moniz-releases-report-showing-cost-reductions-and-rapid-deployment-clean-energy-0
Below are some interesting graphs showing growth of renewables and decline in costs.
Land-based Wind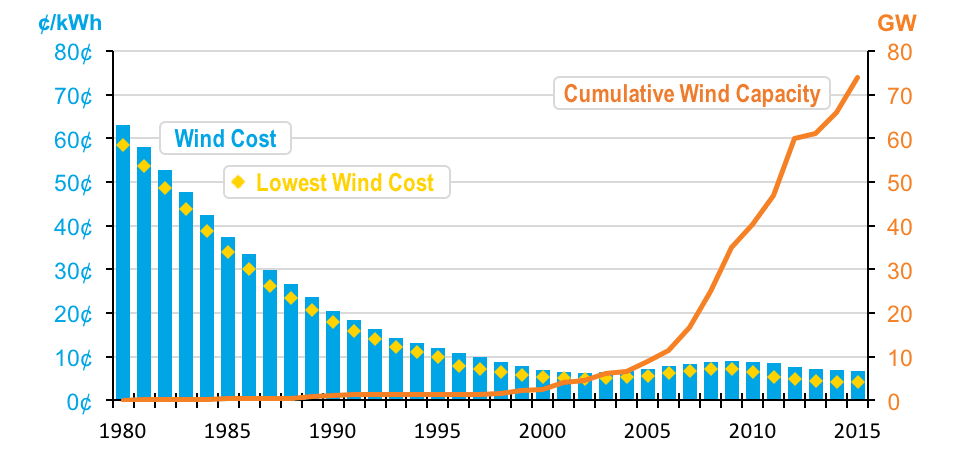 Wind power accounts for nearly 5 percent of total U.S. electric generation and reduces annual carbon dioxide emissions by 132 million metric tons, all while supporting nearly 90,000 U.S. jobs. This is exciting stuff, and it's only going to get better. As wind turbines get taller, more affordable and more efficient, the Energy Department predicts that an additional 700,000 square miles of land will be suitable for wind development. That's more than twice the size of Texas.
Solar PV: Utility-Scale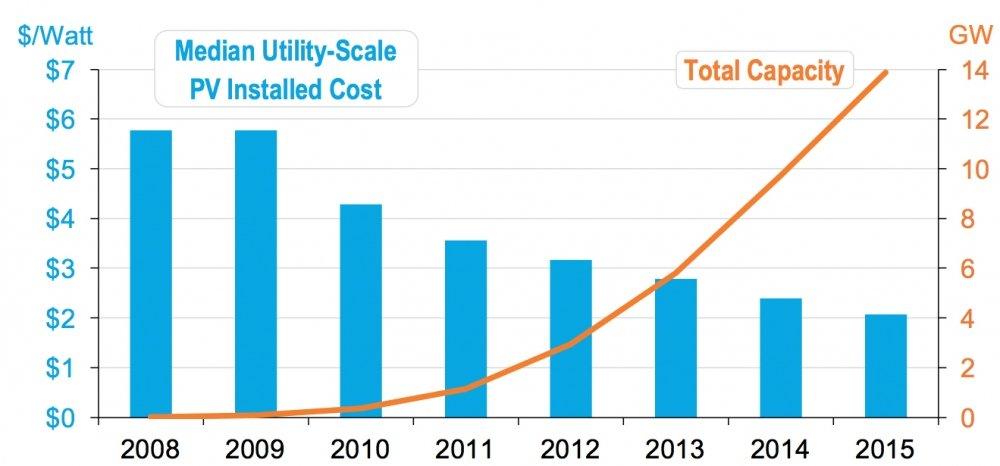 Since 2008, the cost of installing utility-scale PV has dropped from $5.70 per Watt of generating power in 2008 to only $2.08 per Watt in 2015, a reduction of more than 60 percent. That enables it to be cost-competitive with conventional generation in parts of the U.S.
In that same period of time, we've seen staggering growth in installed capacity, going from almost none in 2008 to nearly 14 GW in 2015 — a trend that was jump-started by the Energy Department's Loan Programs Office. In the first half of 2016, utility-scale PV generated 15 billion kWh – a 34 percent increase over the same time period as last year.
Solar PV: Distributed Generation (rooftop solar for homes and businesses)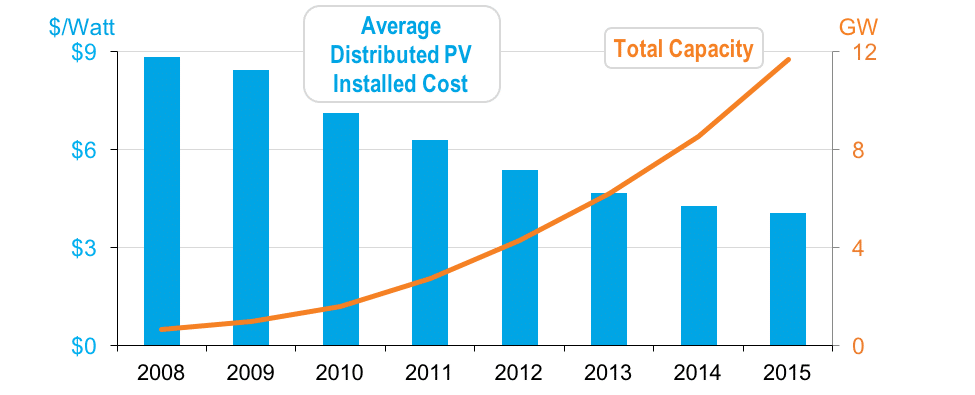 Distributed solar installation costs have been slashed in half since 2008, and this power source has grown from less than a GW of production to more than 11 GW through the end of 2015.  There are now one million distributed PV systems installed in the United States.
LEDs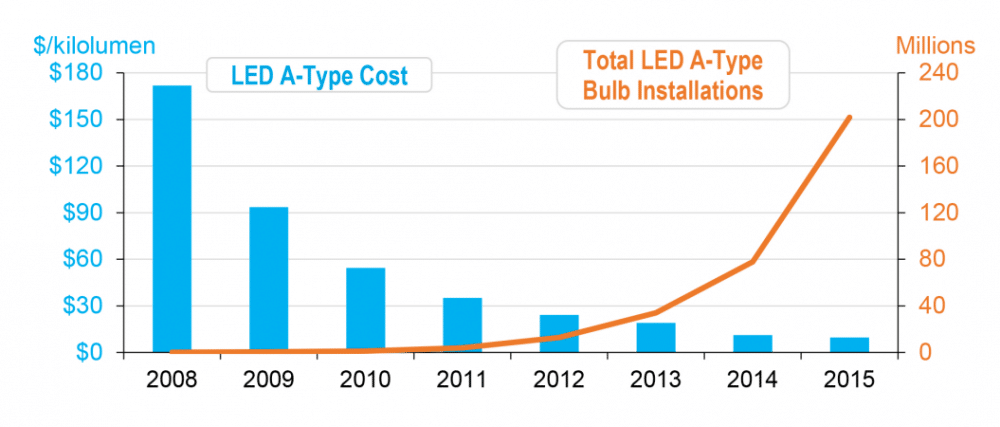 In 2008, fewer than 400,000 LED bulbs were installed. Compare that to 77 million in 2014 and 202 million last year. That's coupled with a price reduction of 94 percent. The Energy Department predicts that LEDs will account for 85 percent of all lighting installations by 2035. From 2015 through 2035, LEDs could save Americans nearly $630 billion in total energy costs.
Electric Vehicles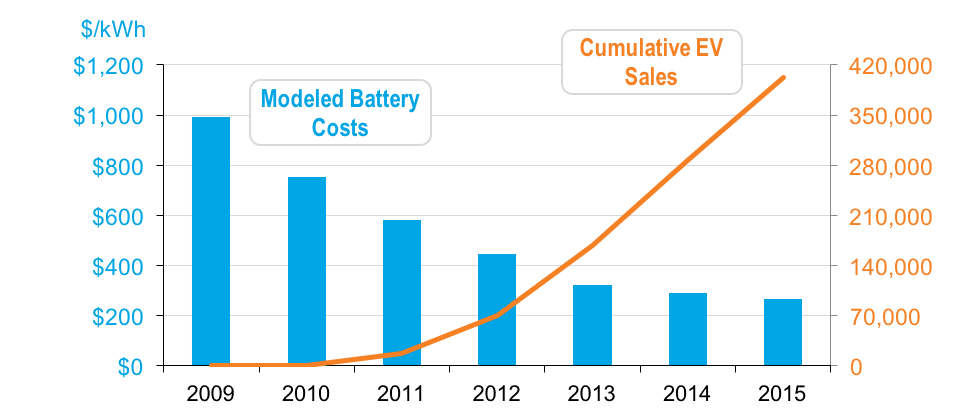 Surging sales have brought over 400,000 EVs on to U.S. roads in just seven years.  Over the past 20 years, the Energy Department's $1 billion in contributions to EV battery research and development has yielded $3.5 billion in economic value.
source: http://energy.gov/articles/6-charts-will-make-you-optimistic-about-america-s-clean-energy-future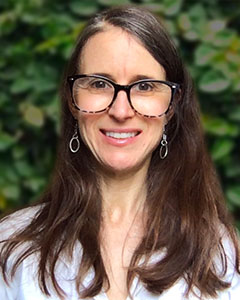 Stacey Meinzen
Communications Manager
Stacey Meinzen has nineteen years of experience as a communications and research professional.
Read full bio