By David R Baker and Mark Chediak, Bloomberg Green
---
Highlights
Social distancing and stay at home mandates have made preparing for wildfire season harder, limiting tree trimming, controlled burns, and powerline maintenance.
Though California may suffer another severe fire season, the U.S. Forest Service has suspended in-person training for firefighters
In the State budget Governor Gavin Newsom called for

$129 million

for new fire-related positions as well as wildfire forecasting center. But an updated budget, reflecting coronavirus realities, is expected by mid-May. Money budgeted for fire prevention might be spent instead on efforts to fight the virus and restart California's economy
As of April 23, 58% of the state was abnormally dry, compared to 6% a year ago and 36% of the state is currently experiencing drought, further fueling the next wildfire season
So far this year PG&E has trimmed or chopped down trees along 573 miles of power lines in order to minimize fire vulnerability 
Southern California Edison plans to install 700 miles of insulated power lines this year and is now trying to schedule any necessary power interruptions for night time or early morning to minimize the impact on at-home workers 
---
Increased air pollution from fires and fossil fuel emissions makes all of us more vulnerable to the current COVID-19 pandemic. With community energy resilience we can ensure that our power is clean and not further contributing to emissions in our communities. 
---
Read more: https://www.bloomberg.com/news/articles/2020-04-28/california-s-virus-war-collides-with-its-other-crisis-wildfires?sref=ABTRBDIh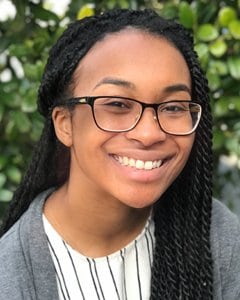 Nina Turner
Energy Programs and Communications Coordinator
Janina is a graduate of the Energy Management and Design program at Sonoma State University with experience in non-profits that specialize in sustainability and volunteerism.
Read full bio