SACRAMENTO, August 11, 2022 — Today, the California Energy Commission (CEC) held a workshop to mark the creation of a new $170 million Community Energy Resilience investment program. The program is modeled after the Community Energy Resilience Act (SB 833), which was held in the Assembly Appropriations Committee today following the creation of the new CEC program. SB 833 was authored by Senator Bill Dodd (D-Napa) and sponsored by The Climate Center. 
"This is a critical step forward for California's energy future," said Ellie Cohen, CEO of The Climate Center. "This program will help deliver exactly what our state needs — a major investment in clean, resilient energy with frontline communities at its heart. With local solar and storage, microgrids, and other ready-to-deploy, distributed energy solutions, California is finally on a path to build a clean, affordable, resilient, and safe Grid for the Future."  
Power outages and grid disruptions have been a focus for Governor Newsom and state lawmakers this year. In July, the governor signaled his desire to improve grid reliability without furthering reliance on fossil fuels in a letter to the California Air Resources Board. He reiterated that goal in a memo circulated to state legislators last week. 
According to the CEC, the new Community Energy Resilience program will invest in projects that "increase energy resilience and reliability, reduce the likelihood and consequences of disruptions to the electricity grid, promote decarbonization of the energy system, improve energy justice, and create good-paying jobs." 
The program will be funded through U.S. Department of Energy grants to California from the federal Infrastructure Investment and Jobs Act. The CEC expects funds to be available in 2023.
"It's welcome news that the new California Energy Commission program will invest in clean energy resilience in the communities that suffer the most from air pollution and power outages," said Jina Kim, Attorney with Communities for a Better Environment.
"This is an exciting development for the growing microgrid industry in California," added Allie Detrio, Senior Advisor with the Microgrid Resources Coalition. "Communities will be able to receive funding to build microgrids and develop clean energy projects that meet our climate, system reliability, and community resilience goals."
The Climate Center established a Community Energy Resilience program in 2020 to accelerate the development of a new electricity system for California. We envision a Grid for the Future that is clean, affordable, reliable, equitable, and safe, prioritizing project development in disadvantaged communities. 
Contact: Ryan Schleeter, Communications Director, The Climate Center: ryan@theclimatecenter.org, (415) 342-2386
About The Climate Center:
The Climate Center is a climate and energy policy nonprofit working to rapidly reduce climate pollution at scale, starting in California. We are a think-tank, do-tank working to turn bold ideas into action for an equitable, climate-safe future. Our flagship Climate-Safe California campaign is a unique and comprehensive effort to make California the first state in the nation to reach carbon negative.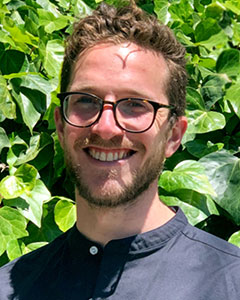 Ryan Schleeter
Communications Director
Ryan Schleeter (he/him/his) joined The Climate Center in 2021, bringing nearly a decade of experience in climate and environmental communications. As Communications Director, he leads The Climate Center's brand, message, content, and digital strategies, helping to grow the movement to secure a Climate-Safe California. 
Read full bio