by Janina Turner and Stacey Meinzen
As we reel from the COVID-19 pandemic and think about the longer-term consequences, many of us are likely wondering how things will be in the fall. Many of us remember the Public Safety Power Shut-offs of 2019 that meant no electricity for refrigeration, heat, the internet, and in some cases, vital medical equipment. It was a scary time and many people purchased diesel backup generators for their homes in response. Though they are loud and cause air pollution, that comfort of knowing you can rely on the internet for evacuation warnings or know where your family is during a crisis like a wildfire or a pandemic is more than understandable.
This year, even with March rains, we are already in a drought– portending another record-breaking fire season. Thanks to climate change, we know that our fire seasons will be longer and more disastrous every year. This may be compounded by COVID-19 and the necessity of sheltering in place– possibly without electricity.
In response to wildfires and prior to COVID-19, Pacific Gas and Electric (PG&E) had unveiled a plan to use dirty natural gas-powered generators (that they were calling "microgrids" in a misleading attempt to make them sound modern) throughout Northern California. This was a poor and outdated plan that would have destroyed local air quality, raised the risk of fire, and contributed even more to climate change through methane emissions. Given that COVID-19 is especially lethal for people with poor respiratory health, destroying local air quality is madness.
Luckily, PG&E recently abandoned these plans temporarily. According to Shinjini Menon, Director of Energy Policy for Southern California Edison, the microgrid plans would have cost 13 times more than alternative solutions and would not include clean energy technologies, so they have decided not to move forward with a microgrid deployment for the 2020 wildfire season. Looks like we are on our own.
Now many Californians are taking matters into their own hands and installing solar with battery storage. Many residents want the ability to use clean energy that they've created on their roofs to help them last in another power shut off event. Greentech Media reported that last year in the fourth quarter, solar installer Sunrun installed batteries on half of Bay Area home solar projects and 30% on all solar installations statewide. Though solar and storage have a large upfront cost, in the long run, the investment saves money over time since it will decrease energy bills year-round. Since there's a large amount of solar and storage in the state, the best course of action would be to use this network of distributed energy resources (DERs) to power our homes during PSPS instead of relying on diesel generators and natural gas. 
There are many ideas about how to utilize the decentralized grid during power shutoffs. Sunrun recently revealed their decentralized grid concept that would create distribution islands utilizing solar and battery backup. Vote Solar also outlined why solar and storage are better for a more clean and resilient grid system. Even PG&E has approved a 1GWh Tesla battery facility along the central coast. With new technologies available, local and state governments must secure community clean energy resilience– not just leave it to people to try to save themselves. Statewide policy can help make it happen. 
Two bills supported by The Climate Center as part of our Climate-Safe California campaign are currently in the California legislature and are key to Community Energy Resilience:
SB 1314 (Introduced by Senator Bill Dodd): The Community Energy Resilience Act of 2020 requires the Strategic Growth Council to develop and implement a grant program for local governments interested in developing clean energy-based community energy resilience plans. 
SB 1240 (Introduced by Senator Nancy Skinner): The bill would require the California Energy Commission, in consultation with the California Independent System Operator, to identify and evaluate options for transforming the investor-owned distribution grid to provide open access that would allow local governments and other third parties to more easily participate in distribution grid transactions.
URGENT: Have your organization sign on here to support utility reform and clean community energy resilience. Individuals, please reach out to your state elected officials here.
Despite the challenges of this moment, there are viable technical and policy solutions to bring California into the 21st century. Experiencing these problems in the fifth largest economy in the world is absurd. A clean, affordable, resilient, equitable, and safe energy future is possible. Let's build it.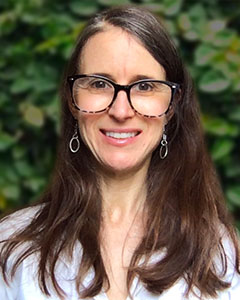 Stacey Meinzen
Communications Manager
Stacey Meinzen has nineteen years of experience as a communications and research professional.
Read full bio