SACRAMENTO, March 21, 2022 — The California Climate Policy Summit, hosted by The Climate Center on April 18, 2022, brings together elected and business leaders, policy experts, activists, and environmental justice advocates to build support for bold climate policy commensurate with what science tells us is necessary to avert even more devastating climate impacts.
What: Our agenda includes plenary speeches by scientists, lawmakers, and activists, as well as in-depth breakout sessions focused on phasing out fossil fuels, carbon sequestration, community energy resilience, climate finance and accountability, and carbon capture and storage (CCS). The Summit will focus on key climate bills before the California legislature right now, including bills related to energy resilience, natural carbon removal, fossil fuel divestment, extreme heat, and more. Speakers will be available for interviews during breaks throughout the day.
Who: Speakers include Martha Dina Argüello, Physicians for Social Responsibility – Los Angeles; Jack Broadbent, Bay Area Air Quality Management District; Celeste Cantú, San Diego Regional Water Quality Control Board; Wade Crowfoot, California Natural Resources Agency; Laura Deehan, Environment California; David Hochschild, California Energy Commission; and Dr. J. Mijin Cha, Occidental College. A complete list of speakers and bios is available here. 
When: April 18, 2022, 9am – 5pm PST.

Where: The University Union at Sacramento State: 6000 J Street, Sacramento, CA 95819.
Register: Register here. Ticket fees are waived for members of the media, use discount code "PRESS" at checkout. Registration for this event is required. 
ENDS
Contact: Ryan Schleeter, Communications Director, The Climate Center: ryan@theclimatecenter.org, (415) 342-2386
About The Climate Center: 
The Climate Center is a climate and energy policy nonprofit working to rapidly reduce climate pollution at scale, starting in California. Our flagship Climate-Safe California campaign is a unique and comprehensive effort to make California the first state in the nation to reach carbon negative.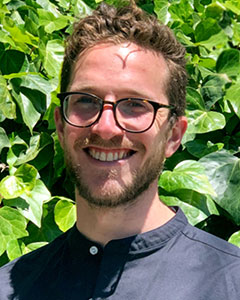 Ryan Schleeter
Communications Director
Ryan Schleeter (he/him/his) joined The Climate Center in 2021, bringing nearly a decade of experience in climate and environmental communications. As Communications Director, he leads The Climate Center's brand, message, content, and digital strategies, helping to grow the movement to secure a Climate-Safe California. 
Read full bio