Upon my arrival to interview Mark Soiland, CEO of Soiland Company, about their renewable energy efforts, he asked me why I didn't drive an electric car. He has done his homework, knows the costs and benefits, and has been advocating with his board to buy electric cars for the business. I couldn't help but be impressed by Mark's knowledge and
passion.
In operation for 52 years,
Soiland Company produces rock, soil,
and compost at three locations in Sonoma County. In the last five years they
have recycled over 500,000 tons of rubble, concrete, and asphalt – more than
any other North Bay company.
When California recently
restructured electricity rates, the company's utility costs soared as the
result of demand charges – from about $8,000 per month during full production to
$25,000–$30,000 per month.  As Mark said, "The economic problem for
the company was very real."
In response they hired
North Coast Solar to install a 202 kilowatt solar tracking system at their
Stony Point Rock Quarry. The new solar farm consists of 33 units, each with 24
solar panels that use GPS tracking to turn toward the sun. This approach is 40
percent more efficient than stationary ground mounted or roof top solar.
The company has cut its energy bills by more than half, and expects
the installation to pay for itself in just seven years. Eventually Soiland plans to quadruple
the size of its solar field, potentially selling the excess energy to Sonoma
Clean Power as part of their Feed-In Tariff program. Their solar project aligns
with the company's environmental values and makes financial sense.
Although the new system
supplies enough electricity for typical operating demand for crushing rock and
recycled concrete, it does not supply sufficient output for expensive demand spikes
which can reach 700 kilowatts. To manage these spikes, the company recently joined Tesla in an electrical
storage pilot project. With no commitment or installation costs for Soiland, the
project is expected to provide 200 kilowatts of storage and reduce Soiland's demand
charges during peak usage.  
Managing
electric load to reduce costs and creating the capacity to sell power back to
the utility when generating a surplus can both green the electric supply and
contain costs. This strategy is the business energy model of the future that a
few forward-thinking businesses like Soiland Company are already pursuing.
Kjell Kallman,
Director of Marketing and Sales, spoke about a strategic planning process the
business is going through. "We are keeping our eyes up, thinking long term,
thinking about the impact of our actions on the community and on the
environment."
The company already
gives away compost and supports community gardens.  It is also supporting the CERES project, that
feeds people with serious illnesses, by supporting their gardening operation.
Soiland is also embarking
on the process of becoming a Sonoma County Green Business with the goal of
achieving certification by County of Sonoma by the end of the year. 
After Mark's research
on electric vehicles, he decided on a Ford C-Max which to date gets him 106 miles per
gallon. He installed a level 2 charger in front of Soiland's office and is considering acquiring two more hybrids
or electric vehicles for the company.
Mark says that he
wants his business to be more than a normal institution. He wants to do
something significant to reduce its impact on the environment. But he
acknowledges whatever change they make has to add productive value so it is
truly sustainable.
When asked why
environmental values are so important to him, Mark replied, "You can't ever
stop learning to be more sustainable. Our industry has a reputation for not
being sustainable that we must overcome. You have to ask yourself what kind of
legacy do you want to leave. I have kids."
By Barry Vesser, Business for Clean
Energy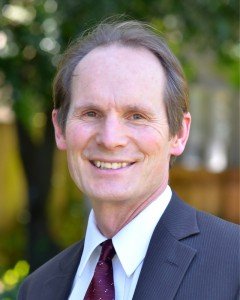 Barry Vesser
Chief Operating Officer
Barry joined The Climate Center in 2005 and has held positions as Deputy Director and Financial Officer. He currently leads The Climate Center's program and policy development and implementation teams. In 2018 Barry began working with a group of energy experts and advocates envisioning a more decentralized energy system that was clean, affordable, resilient, and equitable. He then championed the development of The Climate Center's Community Energy Resilience project, which has culminated in the creation of a new $170 million Community Energy Resilience investment program by the California Energy Commission in August of 2022.
Read full bio