It is hard to have the imagination for what the world will look like when my four-year-old son is my age (39). That will be the year 2051 – one year after scientists tell us we must lower our emissions by 80 percent. Multiple outcomes are possible. The world may have collectively embarked upon a massive transformation to a clean energy economy, creating hundreds of millions of jobs globally and a more equitable and restorative global economy that values clean air and water and intact ecosystems. Conversely, we might "go off the deep end," fulfilling the vision of the current presidency to burn all the coal and gas that we can, spinning the planet off into feedback loops of Biblical proportions. Or perhaps we will have muddled through a middle path, with some societies committing to social justice and sustainability, while others commit to further greed, selfishness, and inequality.
Whichever path we choose, this is likely to be a defining moment.
By now you have probably heard the news that Donald Trump has signed an executive order to dismantle the Clean Power Plan. While the news is troubling, some of the measures in the executive order may take years to implement and are unlikely to change wider economic trends that are shifting the US's electricity mix from coal to natural gas, solar, and wind. The order does not indicate whether the US should withdraw from the 2015 Paris climate agreement.
The main thrust of the new presidential directive – telling the Environmental Protection Agency (EPA) to begin rewriting the 2015 regulation that limits greenhouse-gas emissions from existing power plants – will trigger an arduous legislative process and a possible legal fight. The EPA must first get permission from the U.S. Court of Appeals for the D.C. Circuit – where the rule is tied up in litigation – to revisit the issue. Then, EPA officials will have to justify reaching the opposite conclusion of the Obama EPA, which argued it was technically viable and legally defensible to reduce carbon pollution by about one-third by 2030, compared with 2005 levels.
Some aspects of the executive order can take effect immediately. One section overturns a 2016 White House directive to consider climate change when agencies conduct reviews under the National Environmental Policy Act. Another provision orders Interior's Bureau of Land Management to lift a moratorium of federal coal leasing that has been in effect since December 2015.
Many people feel that this measure is largely symbolic, as cleaner sources of energy are out-competing coal, which has been in a state of decline for more than a decade. However, this regulatory reprieve could make some coal firms, nearly 50 of which have filed for bankruptcy since 2012, somewhat more economically viable by re-externalizing their social and environmental costs and foisting those costs onto the young and the poor. Perhaps this executive action could be called "The Private Profit at Public Cost Order."
As with many executive actions taken by this president, this order will test the federal courts, and by extension, our democracy's ability to defend the most vulnerable among us, including our children, who will be alive as some of the worst impacts of climate change manifest – or don't.
Perhaps the most important thing to remember in a week such as this is that hope is not lost. Many people are fighting to end the age of fossil fuels, along with the age of private profits at public costs. At The Climate Center, we work daily to spread clean energy solutions and a democratic energy system through Community Choice Energy. It is already happening all over California, and it's a major part of resisting and circumventing what's happening at the federal level.
The solutions to the big dark problem of climate change are not quick, sexy, or cathartic. They require a sedulous army of people willing to work together every day ethically and intelligently. We can't know how it will feel to live in the world of 2051. All we can know is how it will feel to live in our own skin, knowing what we did today at this very defining moment.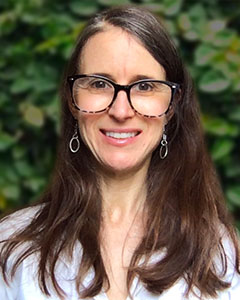 Stacey Meinzen
Communications Manager
Stacey Meinzen has nineteen years of experience as a communications and research professional.
Read full bio