Congressman Jared Huffman spoke to the Business for Clean Energy Group meeting about climate and energy measures in Congress. The group of about 40 business leaders was hosted by Labcon, an international medical labware manufacturer located in Petaluma that has a large solar installation (pictured above) and has invested in aggressive energy efficiency measures.
Huffman explained that the House of Representatives is currently controlled by climate deniers. This means that bold initiatives have no chance of getting through Congress. That does not mean that nothing can be done, he insisted. He is working with  "No Labels," a bipartisan group, on moderate energy efficiency programs, a bill to reduce the carbon footprint of the US Post Services vehicle fleet and a building retrofit program that could have a real impact.   He also does what he can to support the President's climate agenda and is part of the "Safe Climate Caucus" led by Henry Waxman, which strives to keep the issue alive and legislation ready for when the political winds shift.
Huffman said that the slow pace of progress in Washington underlines the importance of local projects like Sonoma Clean Power, which significantly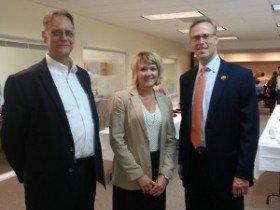 reduce emissions. He said that California leads the U.S. in climate and energy policy and Sonoma County leads California.
He also noted that companies like Labcon can make a real difference by how they manage their operations. Labcon reduced its energy consumption by 50% per unit produced, and then installed a 875Kw rooftop solar system with 2724 panels. They have reduced the greenhouse gas emissions by 72% per case of product.
Huffman said that he really believes that "the U.S. must step up to the plate on climate." We are the world's number one economic power and only superpower and have a responsibility to show leadership on this issue.
Pictured from left to right: Jim Happ, President, Labcon,
Kathy Goodacre, President, CPC, Congressman Jared Huffman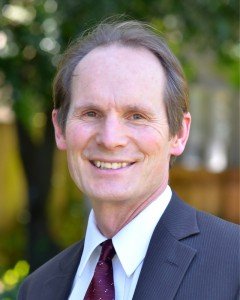 Barry Vesser
Chief Operating Officer
Barry Vesser is The Climate Center's Chief Operating Officer. He joined The Climate Center in 2005 and has held positions as Deputy Director and Financial Officer. Barry currently leads the program and policy development and implementation teams.
Read full bio