By Barry Vesser, CCP  |  Nov. 12, 2015
[
San Jose City Councilmember Ash Kalra talks about his interest in Community Choice]
Momentum is building for Community Choice Energy (CCE) in
Silicon Valley. San Mateo aims to form a Joint Powers Authority (JPA), the
legal framework for a multi-municipality Community Choice program, in February
2016, and begin serving customers by fall 2016.
About 10 San Mateo cities are expected to join the county in forming the
JPA, with the remaining 10 joining later. 
In Santa Clara County, 3 cities – Sunnyvale, Mountain View, and
Cupertino – and the County are also forming a JPA. Nine additional, smaller
cities in the county are also considering joining. Santa Clara intends to begin
serving customers in the winter of 2016. The City of San Jose, due to its large
size relative to the other Silicon Valley local communities, will likely become
a single-city CCE, similar to the City of Lancaster, California's third operational
CCE.
The Climate Center's role in helping spread
Community Choice in Silicon Valley has changed over time. We participated in many
workshops when Community Choice was first introduced to local policymakers, and
organized several forums for policymakers, staff, and businesses to share
lessons learned from Marin and Sonoma CCEs. We also worked extensively with
community activists.
Recently, our role has been more focused in San Jose. Last
month, the Center organized a business forum on Community Choice in San Jose.
It was hosted by Cisco Systems, co-hosted by SunPower and Recurrent Energy, and
moderated by former California Energy Commissioner Jeff Byron.
San Jose City Councilmember Ash Kalra, who spoke at the top
of the agenda, conveyed his clear interest in launching a CCE program in San
Jose, and asked the business community for their help to make it happen.
Joe Como, the Director of the California Division of Rate
Payer Advocates, provided a historical context for development of CCEs. He
explained that CCEs give communities more control over their energy supplies
and allow them to make investments in local energy infrastructure that create
jobs in the community.
Alex DiGorgio from Marin Clean Energy, the longest-operating
CCE in the state, emphasized that their rates are lower than PG&E's, and
that they are offering 50% renewable energy to their customers compared with
PG&E's 27%. In 2015 Marin Clean Energy saved customers an estimated $10.6
million.
The forum closed with a business panel moderated by Don Bray
from Joint Venture Silicon Valley. Joe Carroll, Facilities Engineer at Keysight
Technologies, a large measurement technology company that spun off from Agilent,
said that the company saved about $300,000 in the first year with Sonoma Clean
Power. Matt Duesterberg, CEO of Ohmconnect, said that CCEs appear to be more
agile than traditional utilities, and so more able to take advantage of new
services offered by startup companies like his. Ohmconnect is conducting a
pilot program for Sonoma Clean Power to help residential customers reduce
energy use when rates are high.
In 2016, Silicon Valley will likely have two new CCEs that include as many as 30 cities. California as a whole benefits from the addition of new CCEs and the lessons  from each start-up's approach. We will watch with great interest as Silicon Valley, the hub of innovation, uses CCE's game-changing platform in their unique way.
[CCP Executive Director, Ann Hancock, talking about the benefits of Community Choice. From left to right: Jeff Byron, former California Energy Commissioner; Alex DiGiorgio, Marin Clean Energy; Ann Hancock; and Don Bray, Joint Venture Silicon Valley.]
–
Barry Vesser is the Deputy Director for The Climate Center and manages the Business for Clean Energy network. He can be reached at bvesser@theclimatecenter.org.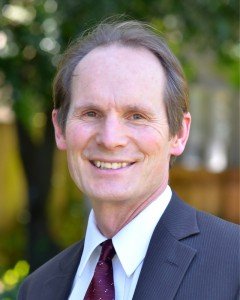 Barry Vesser
Chief Operating Officer
Barry Vesser is The Climate Center's Chief Operating Officer. He joined The Climate Center in 2005 and has held positions as Deputy Director and Financial Officer. Barry currently leads the program and policy development and implementation teams.
Read full bio